My Beauty Favorites from 2017
Hi Friends! Happy New Year!
I was doing a bit of cleaning and re-stocking of the products that I can't live without and I figured the ones that I have used ALL year long can be made into a 2017 Favorites Blog post, so here I am!
All of the products I will be sharing with you are products that have been in heavy rotation all year long.
So, let's get started (In no particular order)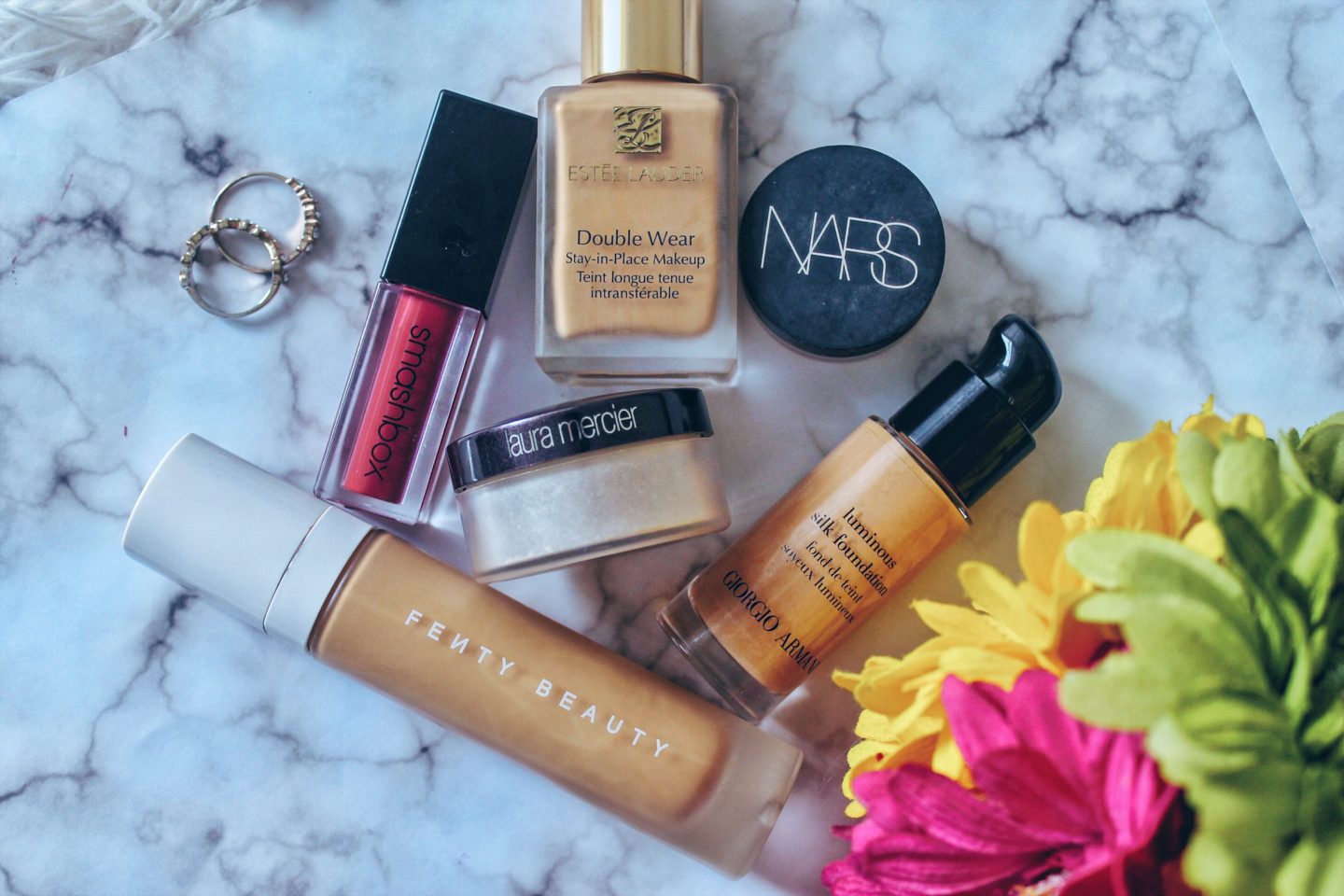 Smashbox Bawse – beautiful universal red shade! Lasts a long time and doesn't feel too drying on the lips!
Fenty Beauty ProFilt'r in Shade 310 – love this for work wear! I basically slather it on with my hands like moisturizer because ain't nobody got time to get all fancy in the morning. It provides all-day coverage, it isn't too matte or too dewy, doesn't break me out and the color is a good match- what more do you need?
Giorgio Armani Luminous Silk Foundation in Shade 7.5 – this is worth ALL the hype. I get the smaller bottle because I only use this for special occasions, night outs, events and days I know I will be taking pictures. It is FLAWLESS and I have been using it for about 2 years now and just can't get enough. Worth the splurge!
Nars Soft Matte Complete Concealer in Shade Ginger – another great product! I have been using this all year long and love it for under the eyes! The tiny pot has lasted me all year. It is matte but not drying under the eyes, provides great coverage and when you set it with loose powder, lasts all day long.
Laura Mercier Translucent Setting Powder – I bought the mini version early on in 2017 and we are still going strong! I use this specifically for my under eyes and love it! No flashback in pictures and doesn't leave you looking too powdery.
Estee Lauder Double Wear Stay in Place Foundation in Shade Honey Bronze – That's a handful to say! This stuff will last you till the next day if you want it to! It provides amazing coverage, the shade selection is great and will make your skin look beautiful! Little goes a long way and is worth every penny!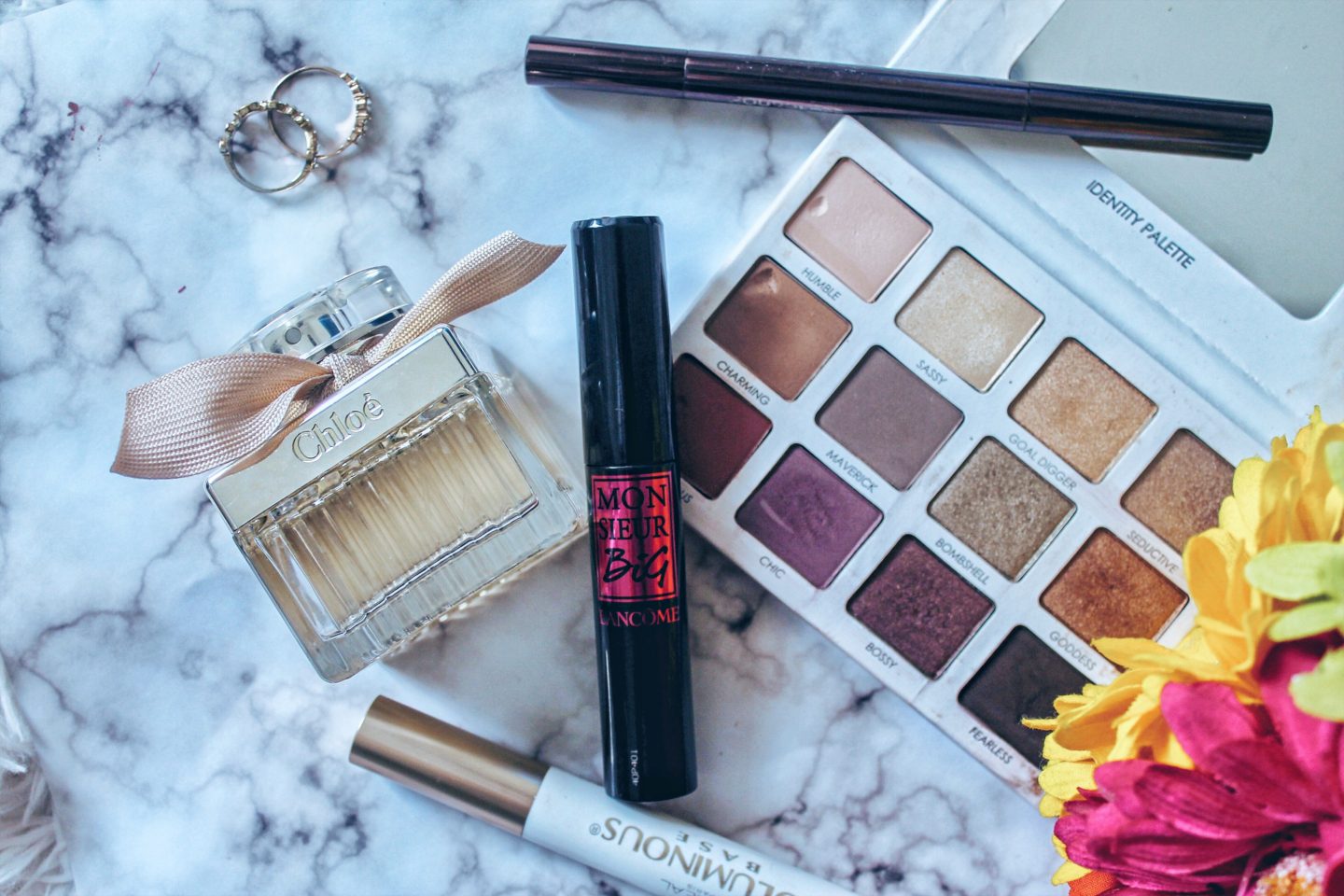 Persona Cosmetics Identity Eyeshadow Palette – I am not someone who plays around with eyeshadow much. I like my neutral colors and I usually spend no more than 2-3 minutes doing eyeshadow for events. But this palette makes me want to play with eyeshadow! The colors are great for those who have brown eyes and they are highly pigmented. This is the only one I have reached for all year for when I need to do my eyes.
Chloe Fleur Eau de Parfum – most people have a scent they gravitate towards. For me it's florals and this is my "signature scent." I love smelling like a fresh bouquet of roses, don't you? My favorite thing about this particular one is that it lasts all day!! I try different ones through the year but this is the only one that lasts me ALL day so to me it is worth the $$$.
Lancome Monsieur Big Mascara – you want beautiful lashes that look fake but aren't? Get this, you won't regret it.
Hourglass Arch Brow Pencil – This has lasted me since January and is the BEST eyebrow pencil I have used and I have tried quite a few in the past years. It is $$ upfront but I mean it lasts 12 months or more and I  used it at least 5 times a week. It is my FAVORITE, it is LIFE, just get it!
L'oreal Primer Mascara – apply this before your mascara and you will have lashes for days! This combined with the Lancome Mascara – match made in heaven. People always think I am wearing falsies when I use these two together.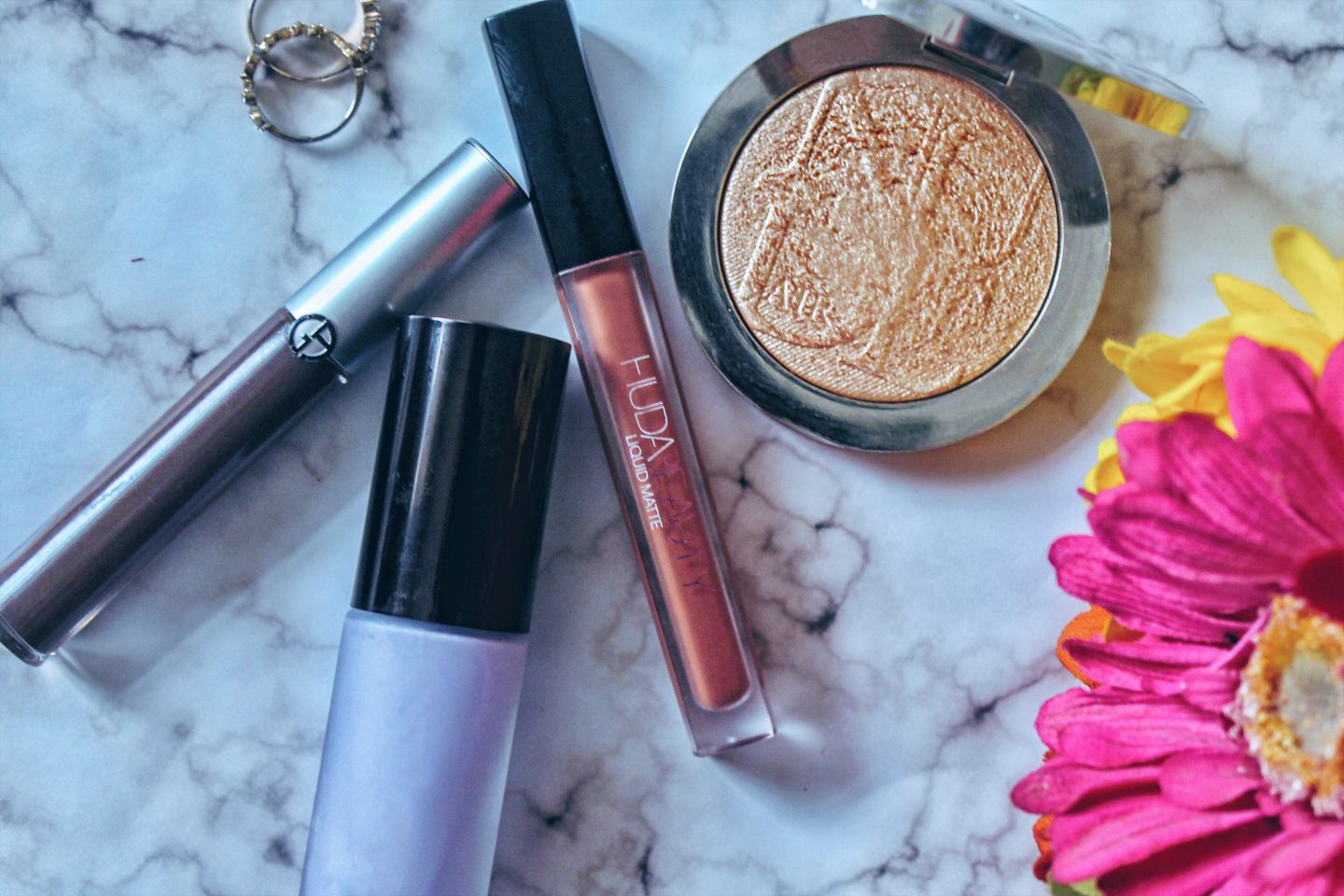 Becca First Light Primer –  this has been my favorite all year long. It provides hydration, makes foundation go on smoother and revives dull complexion in the am. I am on my second bottle!
Dior Air Luminzer in Shade 003 – another favorite! Gives you that highlight without looking like you piled on a chunk of highlighter. Not too glossy, shimmery or in your face. Stays all day long.
Huda Beauty Matte Liquid Lipstick in Trendsetter – drop everything and get this! This has become my favorite nude lip EVER. I never wore nude colors because they made me look washed out but this is the perfect shade of nude for Indian skin tones.
Giorgio Armani Eye Tint Smokey Neutral – I use this for work days. One swipe and quick blend, it gives me the perfect look for the eyes! It is great on its own and layered. I have tried other ones but this one is my favorite.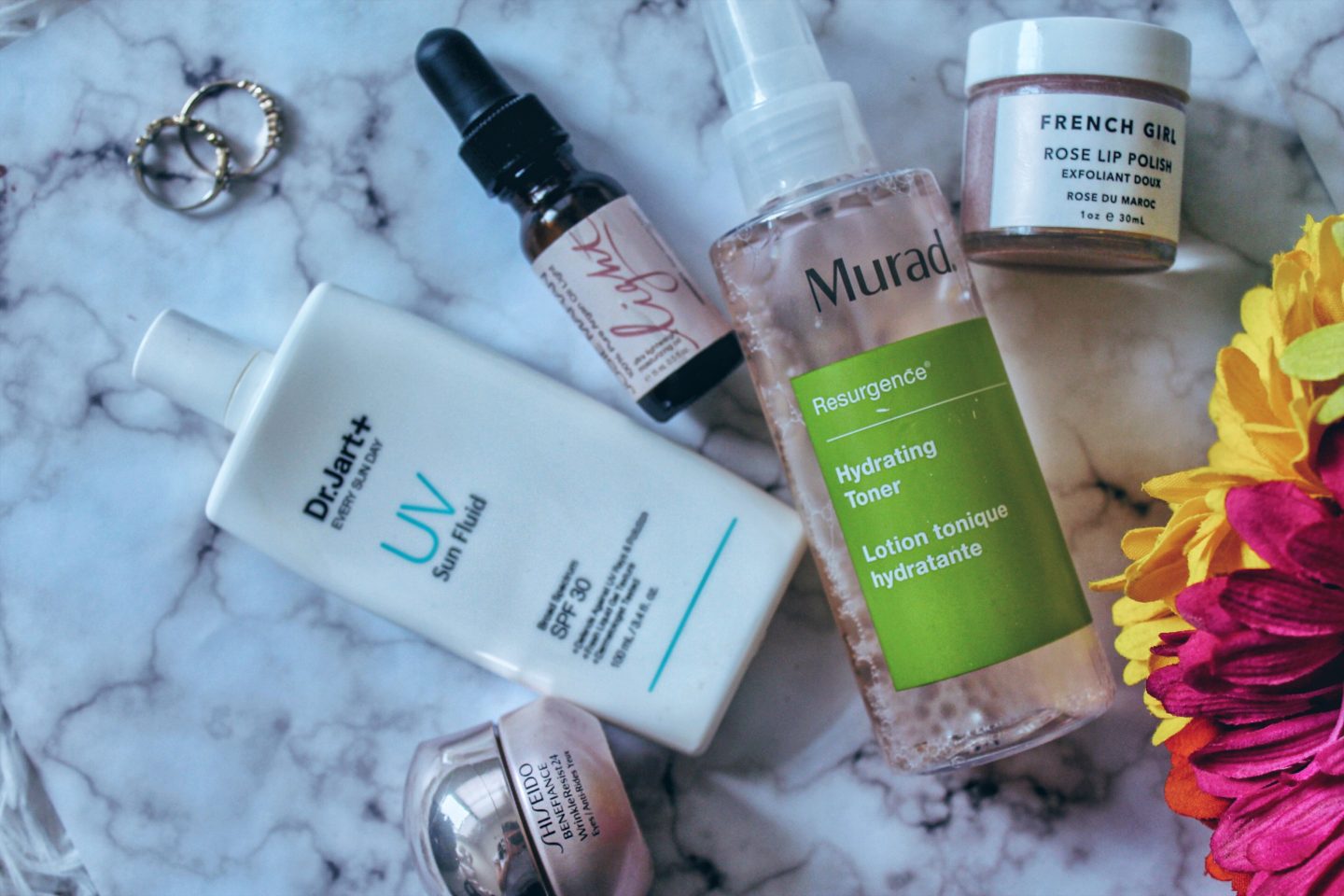 Josie Maran Pure Argan Oil Light – This stuff is the bomb! I use few drops with my moisturizer am and pm, and it gives my dry skin the perfect amount of hydration. I wake up with supple and hydrated skin. It's become my favorite!
French Girl Rose Lip Polish – This is the best lip exfoliator I have found so far! It is my favorite because not only does it exfoliate your lips, it leaves them feeling and looking so soft.
Murad Hydrating Toner – Toner is important! One without alcohol and that doesn't strip your skin of its natural oils is even more important. My skin loves this stuff, it is gentle and effective.
Dr. Jart UV Sun Fluid – Sunscreen is also important! In the past, all the ones I used broke me out and I didn't like how they felt on my skin. This one though glides on beautifully, it is in a liquid gel format so doesn't leave a white cast and does not clog pores. Don't believe me, just read what it is made without!
Shiseido 24hour Eye Contour Cream – I know this is $$$ BUT I have been using it since January and have yet to hit the bottom. I have been using it every night and have seen a difference under the eyes. It is one of those products that is worth the $$$.
Well, that wraps it up! Hope you found some new products to try via this post! What are some of your favorites? I would love to know, I am always looking to try new products!
Until Next Time….
-Dhara