72 Hours in Bogota | Travel Guide 
General Overview
The capital of Colombia – this place is as vibrant as you would expect it to be. Although it is nestled in the northern Andes Mountains, it has the layout of a metropolitan city. Its unique blend of architecture gives you a city that is cosmopolitan yet colonial. The people are just as diverse and multicultural and Bogota has an interesting balance of new and old.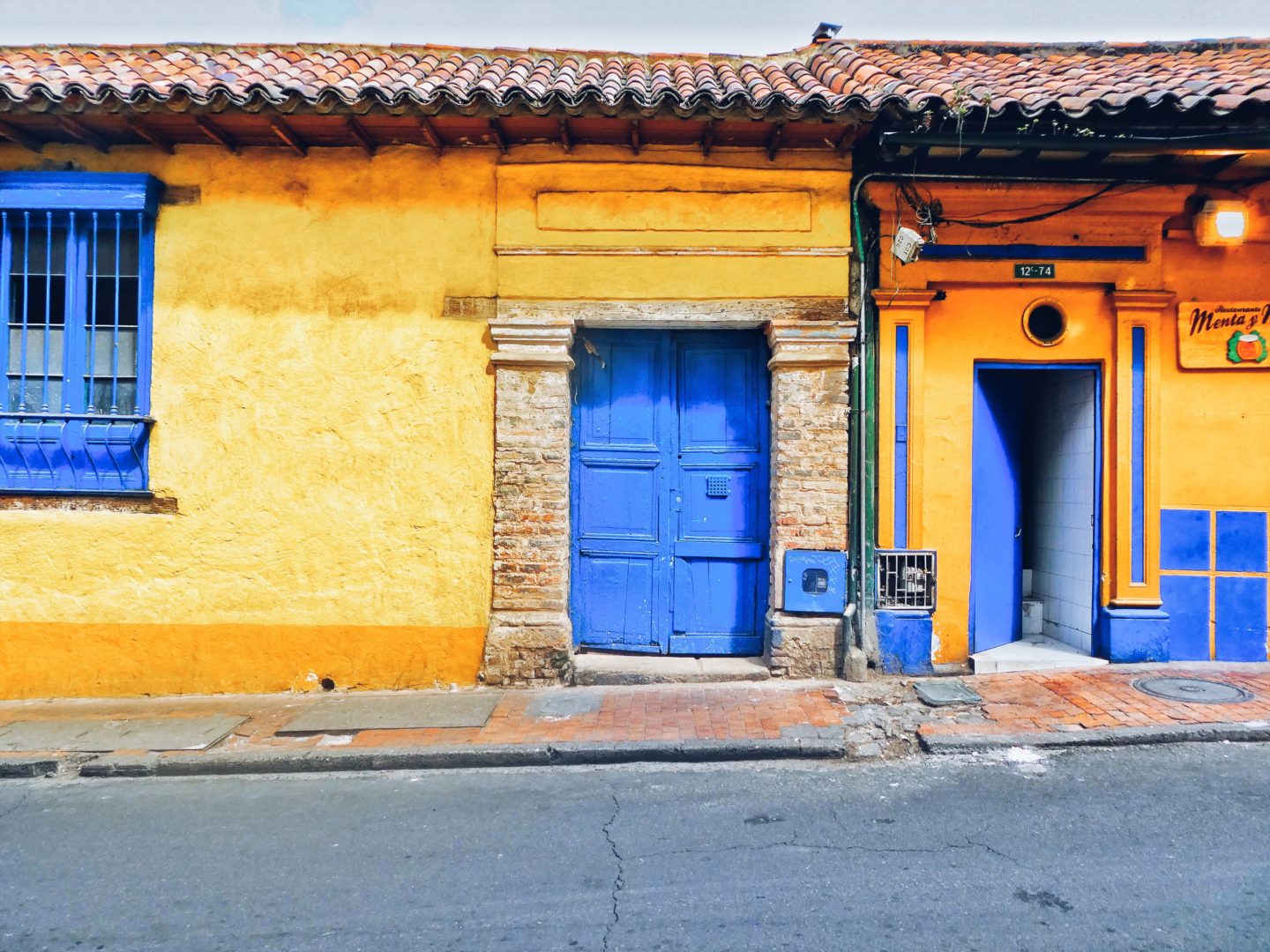 Things to Do
Explore La Candelaria
La Candelaria is the cultural hub of Bogota. It is dense in history, the modern arts, museums, and attractions. Beautiful spanish colonial architecture lines parts of the neighborhood, whereas other parts are overflowing with the graffiti murals from local street artists. This is a great place to go shopping as you will find several shops selling artifacts, handicrafts and other tidbits that represent the Colombian culture. As far as the food scene, there is no better place to go to. La Candelaria is filled with eateries and you are sure to find something of your liking.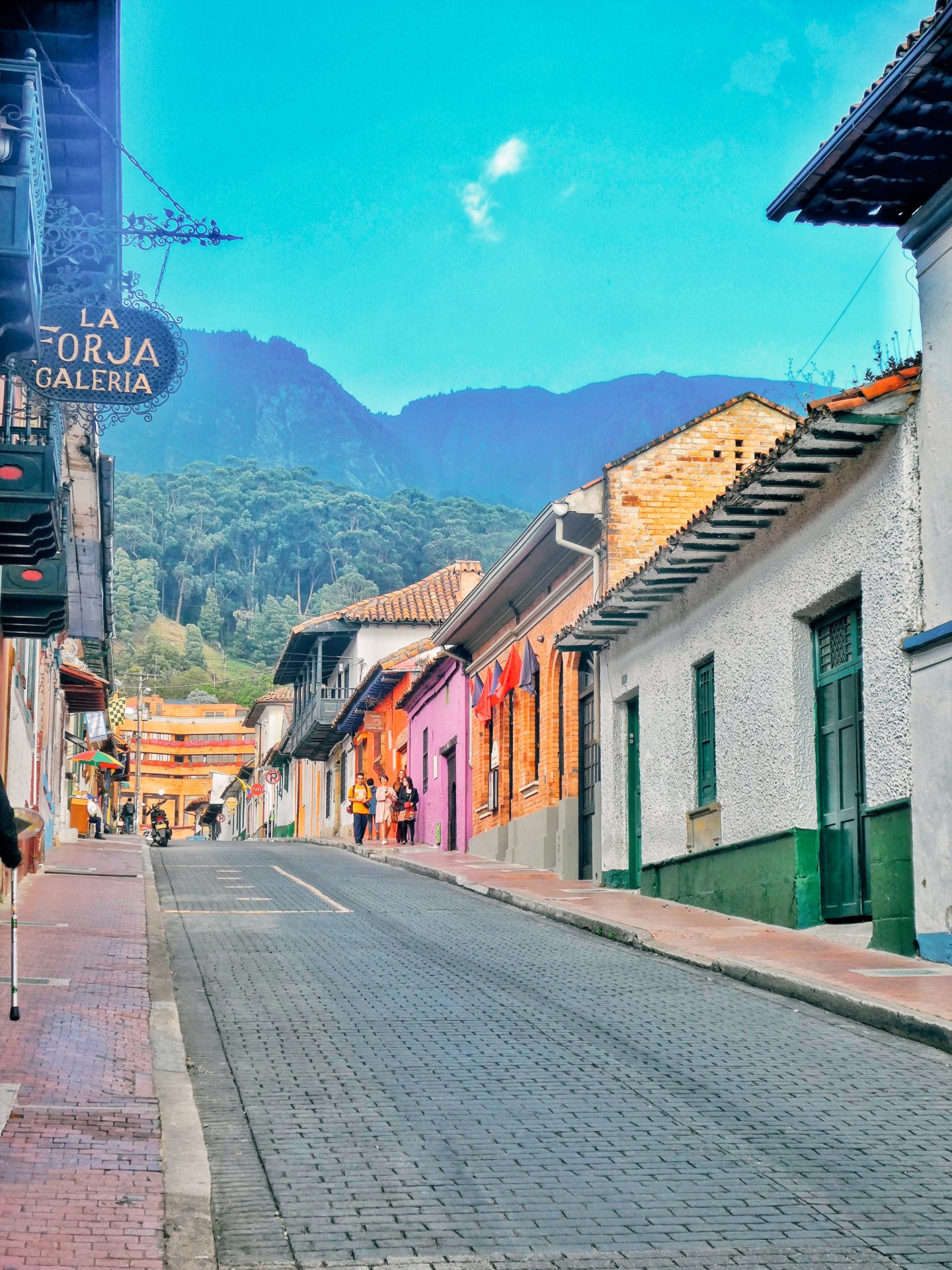 To all the Narcos Fans – Some of these streets might look familiar (wink wink).
Check out the Museo Del Oro while in La Candelaria, if you are someone who likes museums!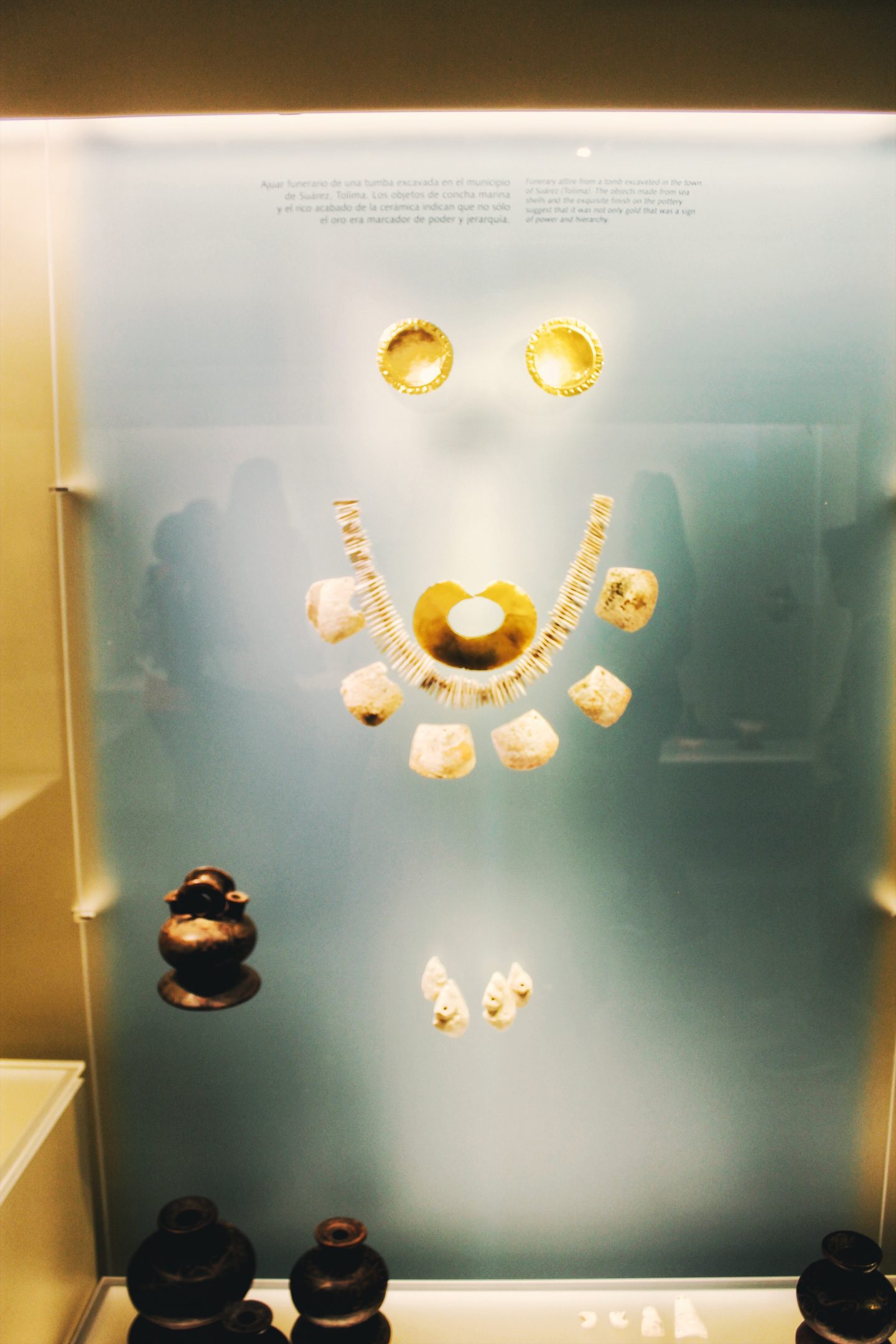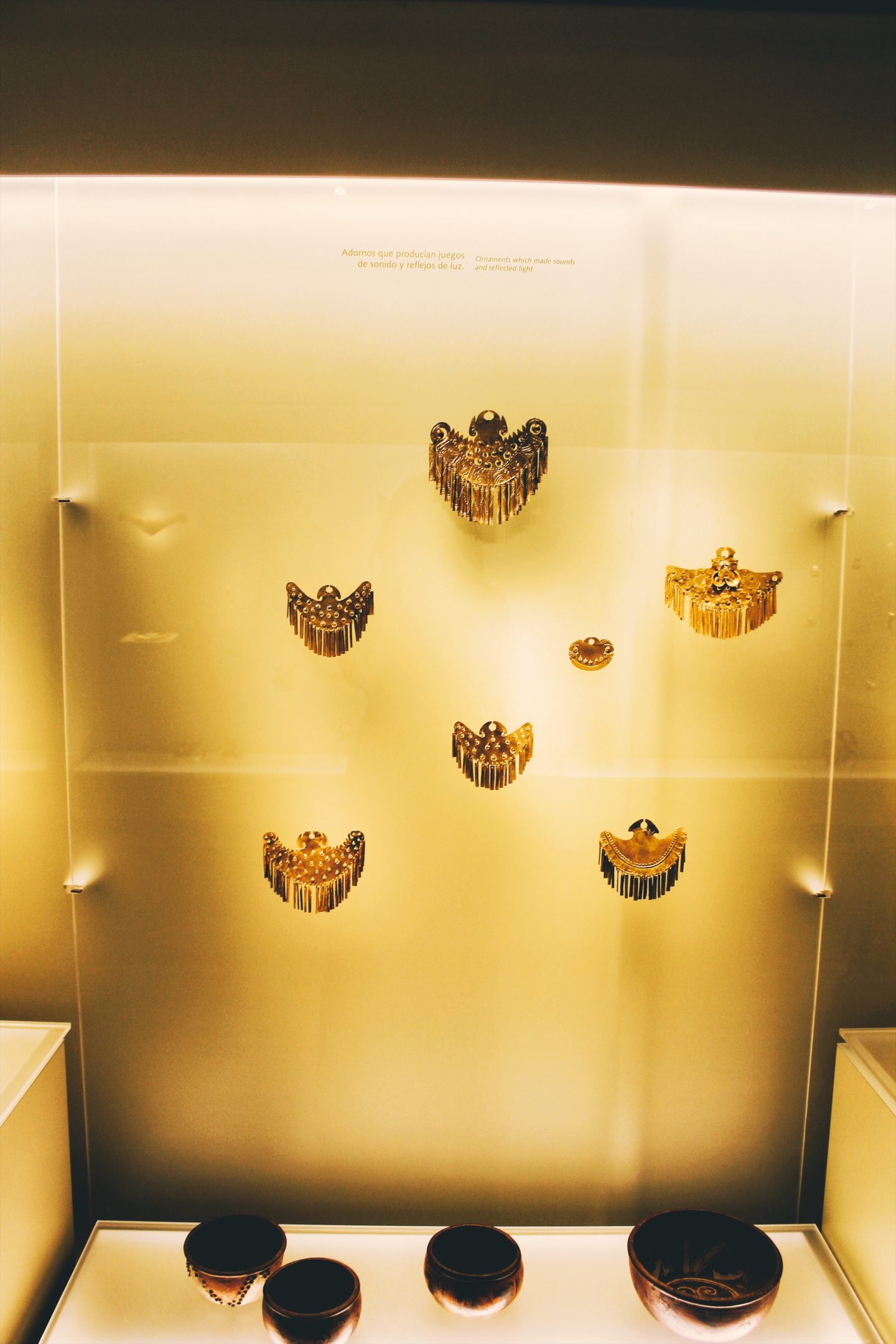 Take the Graffiti Tour
Bogota is known for its colorful streets that depict Colombian urban art. There is a free guided walking tour that takes you through Bogota's graffiti scene. Each piece of street art differs from the next and these aren't just your normal graffiti murals. These are visual displays of what the people of Bogota (and Colombia) have been through. History, politics and modern society are prominent themes. It is a great way to visualize the perspective that the modern-day Colombians carry. The tour is 2.5 hours long and you do not have to stay for the entire tour. The tour departs at 10 am and 2 pm. You can sign up here. You can support the Colombian street artists by making a donation of your choosing as a thank you for the free tour.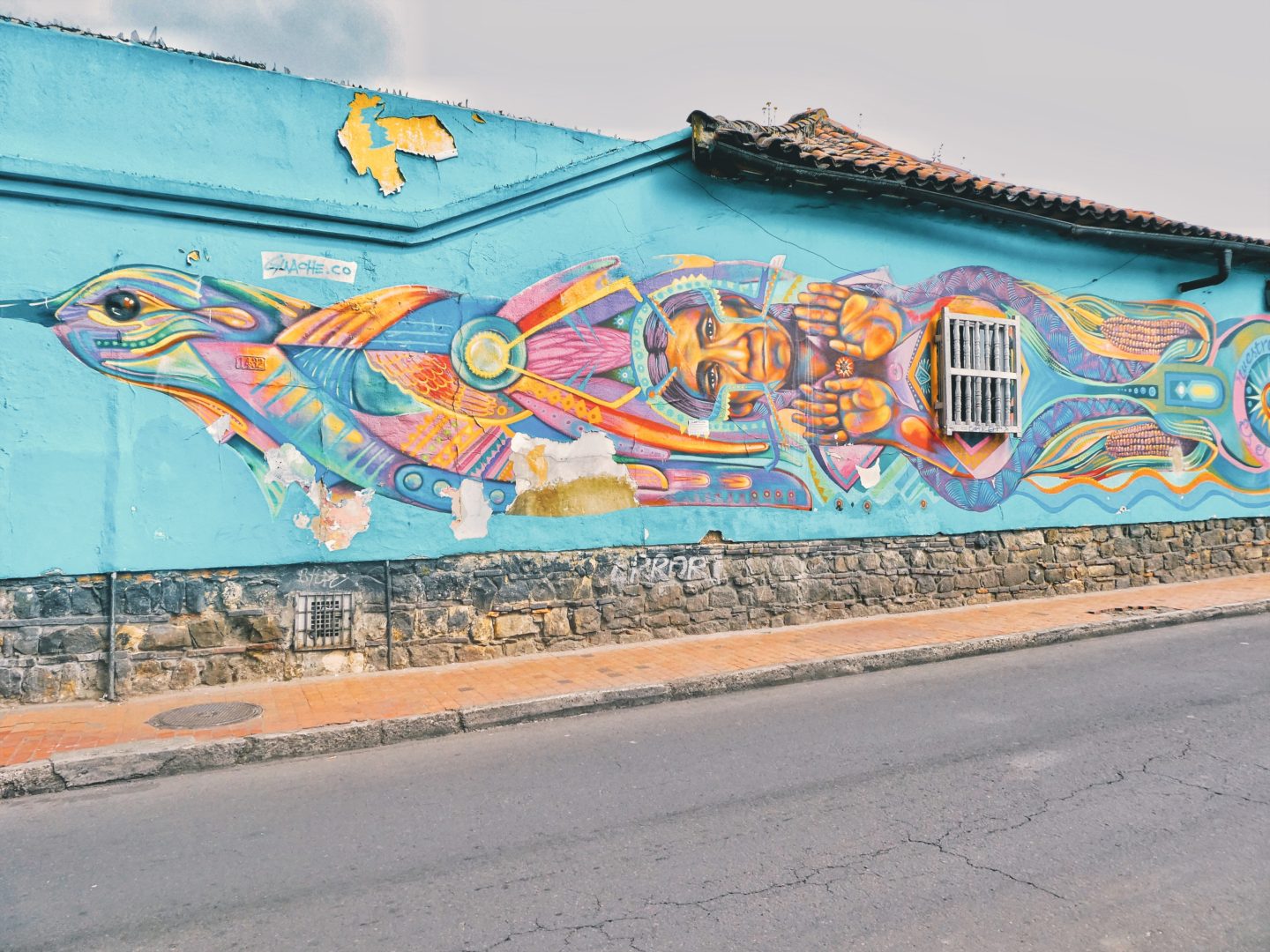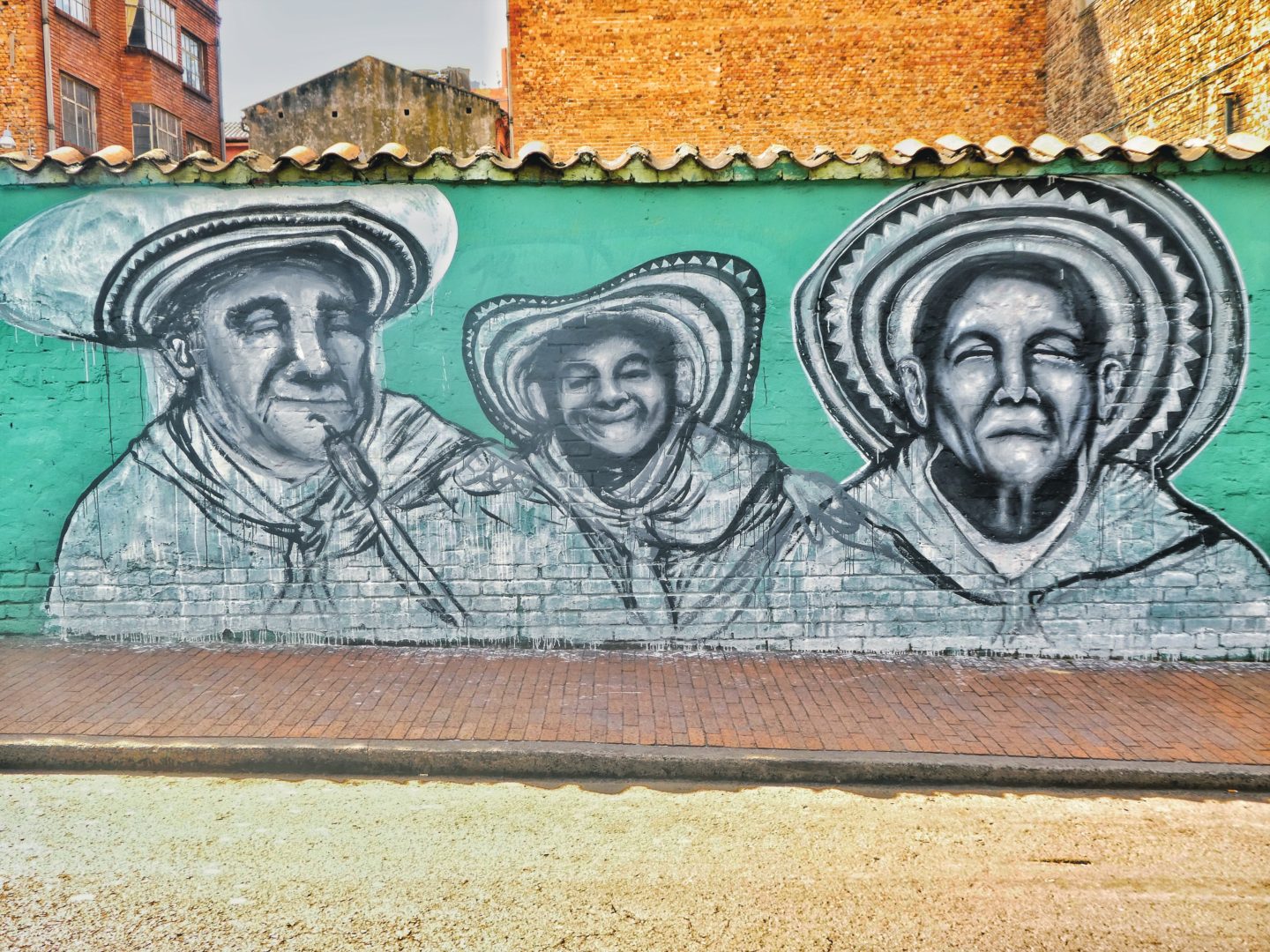 People Watch at Plaza Bolivar
This a plaza like the name suggests. It is surrounded by government buildings, museums, and a cathedral. It was a great place to people watch, sit on the stairs, take pictures and you can feed the pigeons if you want.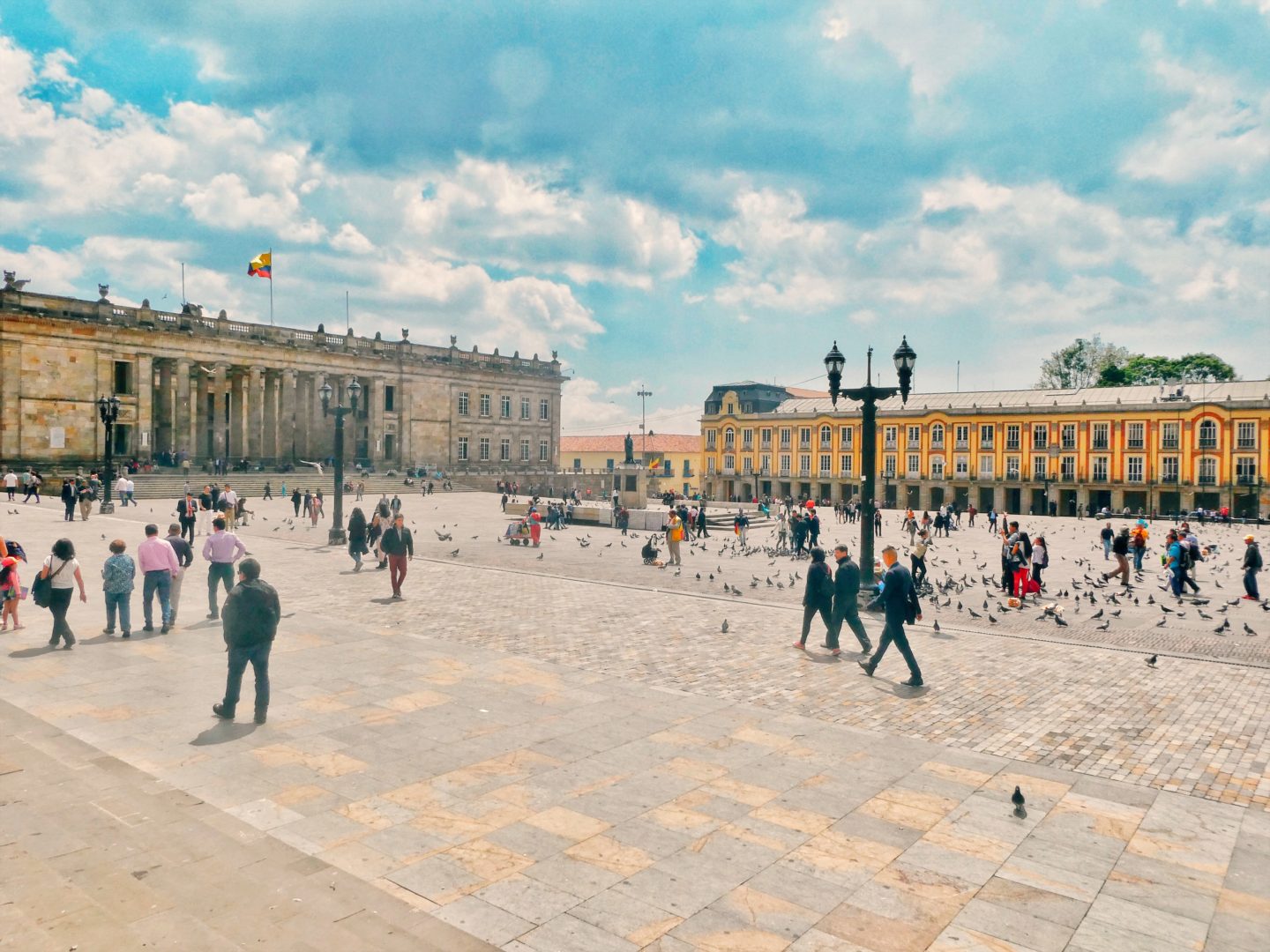 Go up to Monserrate
Monserrate is a gorgeous mountain located in the center of  Bogota city. This mountain is 10,341ft above sea level and provides magnificent views of both the city and the mountains surrounding Bogota. You can access this mountain via cable car and enjoy views while being transported up to the mountain. The summit contains a beautiful church, souvenir shops, and restaurants. The ticket lines can get long if you visit during high season but it is definitely worth the views and tickets are also reasonably priced. Put Monserrate high up on your list when visiting Bogota.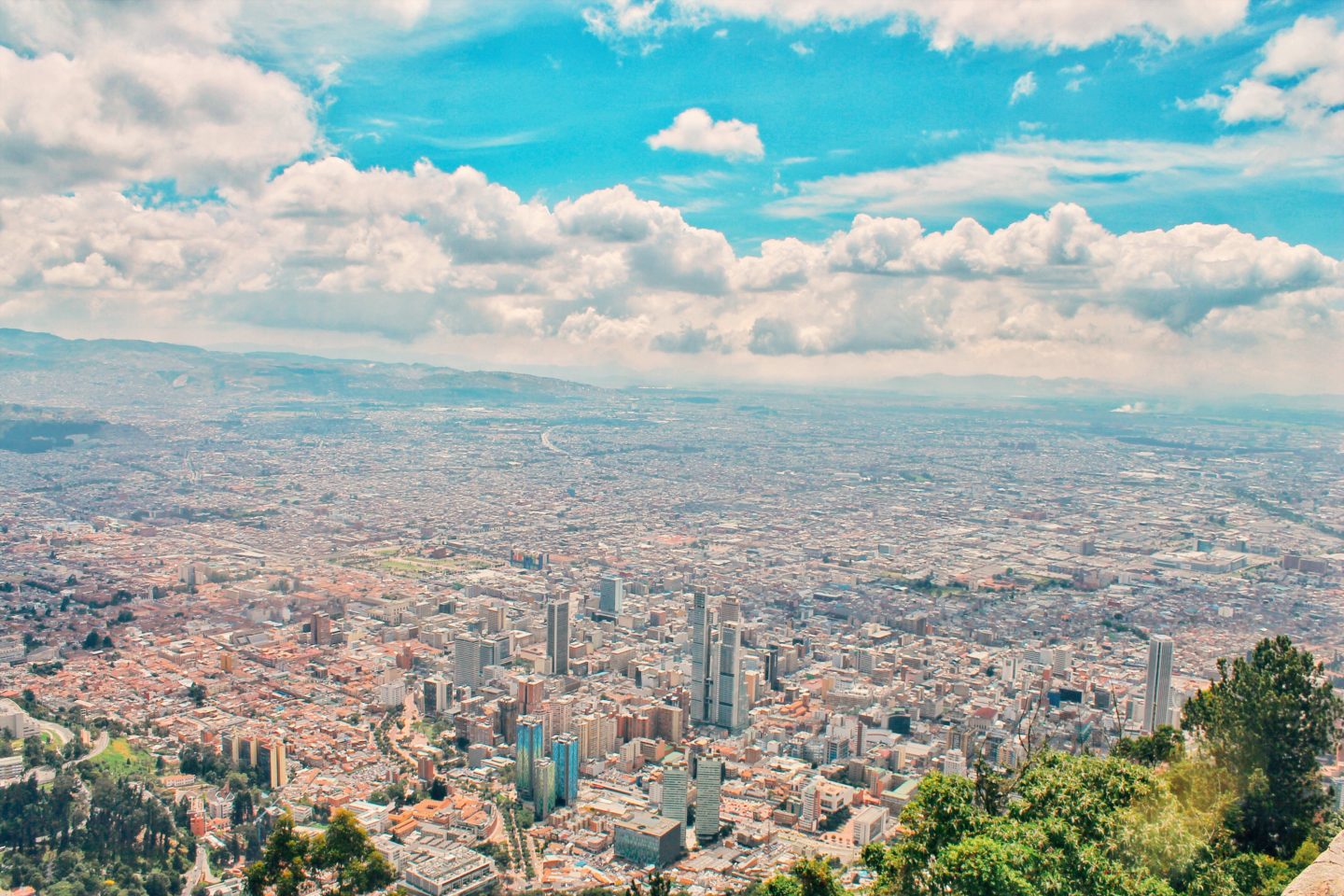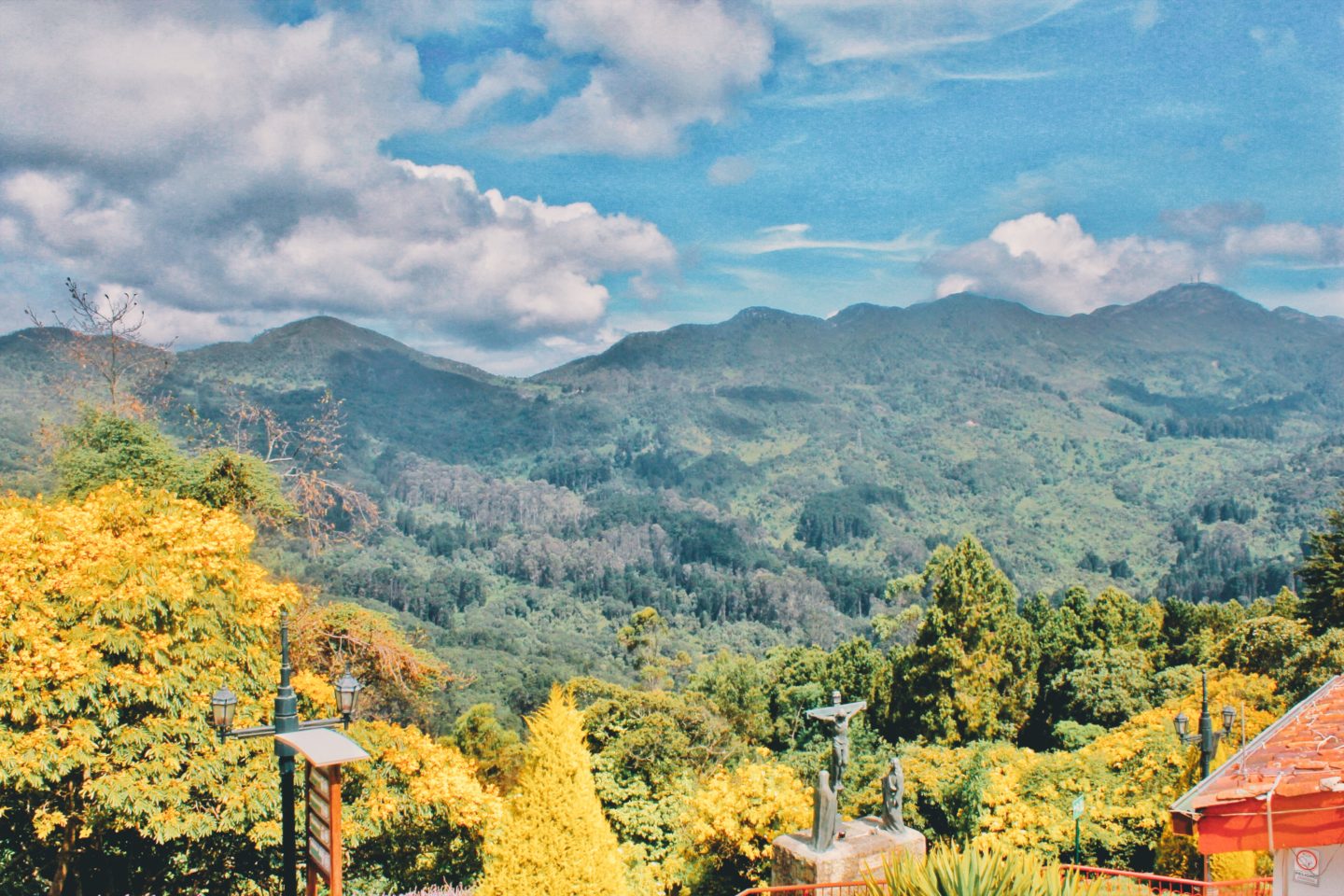 Go Underground to the Salt Cathedral of Zipaquira
Parque de la Sal is a magnificent wonder built within the tunnels of a mine 200 meters underground in a rock salt mountain. The Salt Cathedral is described as the jewel of modern architecture and a true win for the Colombian architects. This church holds mass every Sunday attracting thousands of people to partake in its underground beauty. The church has built-in ventilation so that people can breathe with ease. The cathedral has 14 small chapels built to depict the stations of the cross and also three sections depicting the birth, life, and death of Jesus Christ. This cathedral is a must visit and the main chapel is simply breathtaking. They also have souvenir stores located down here along with other beautiful salt carvings. It is about 2-hour drive from Bogota and is accessible by taxi and bus.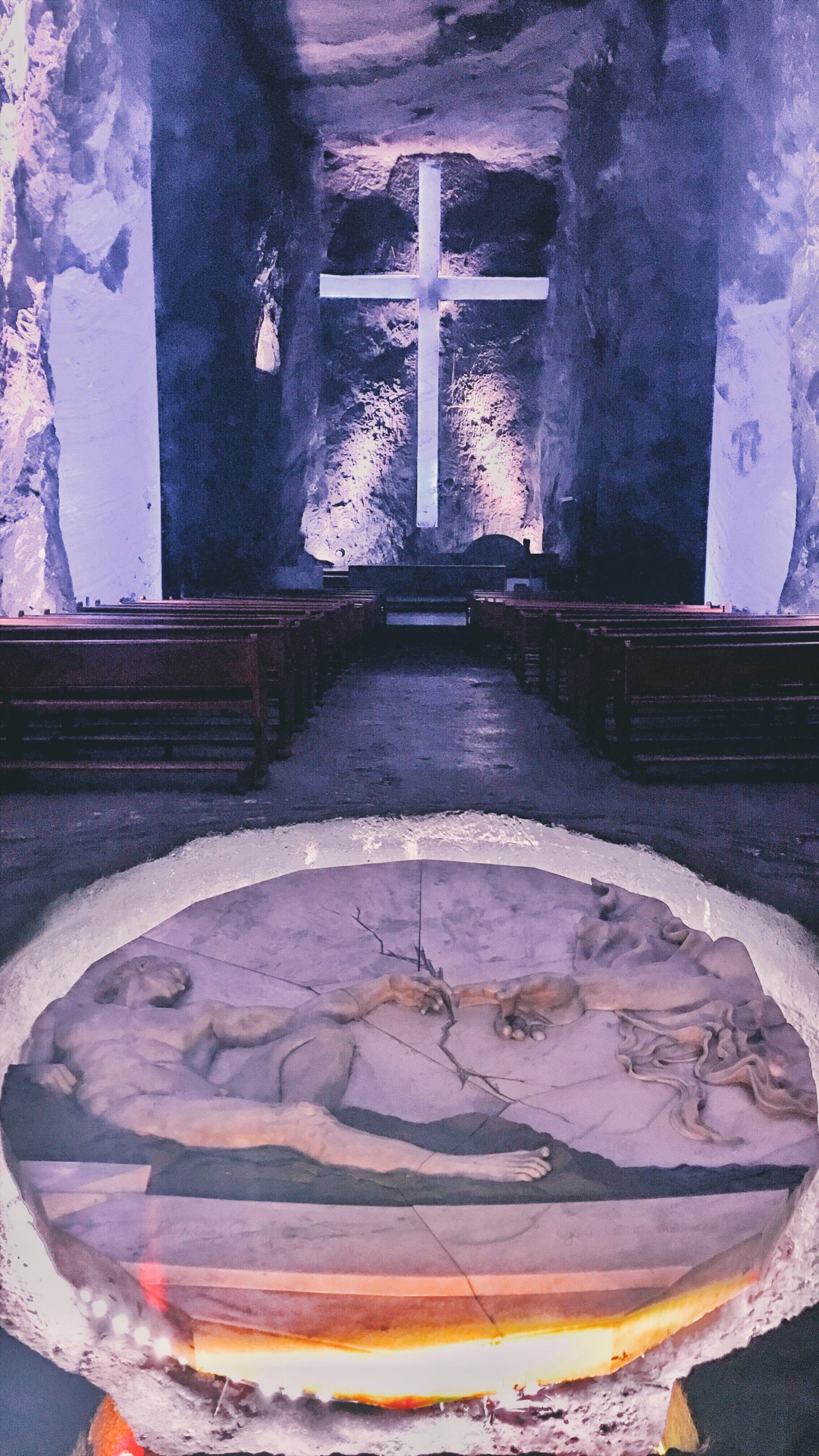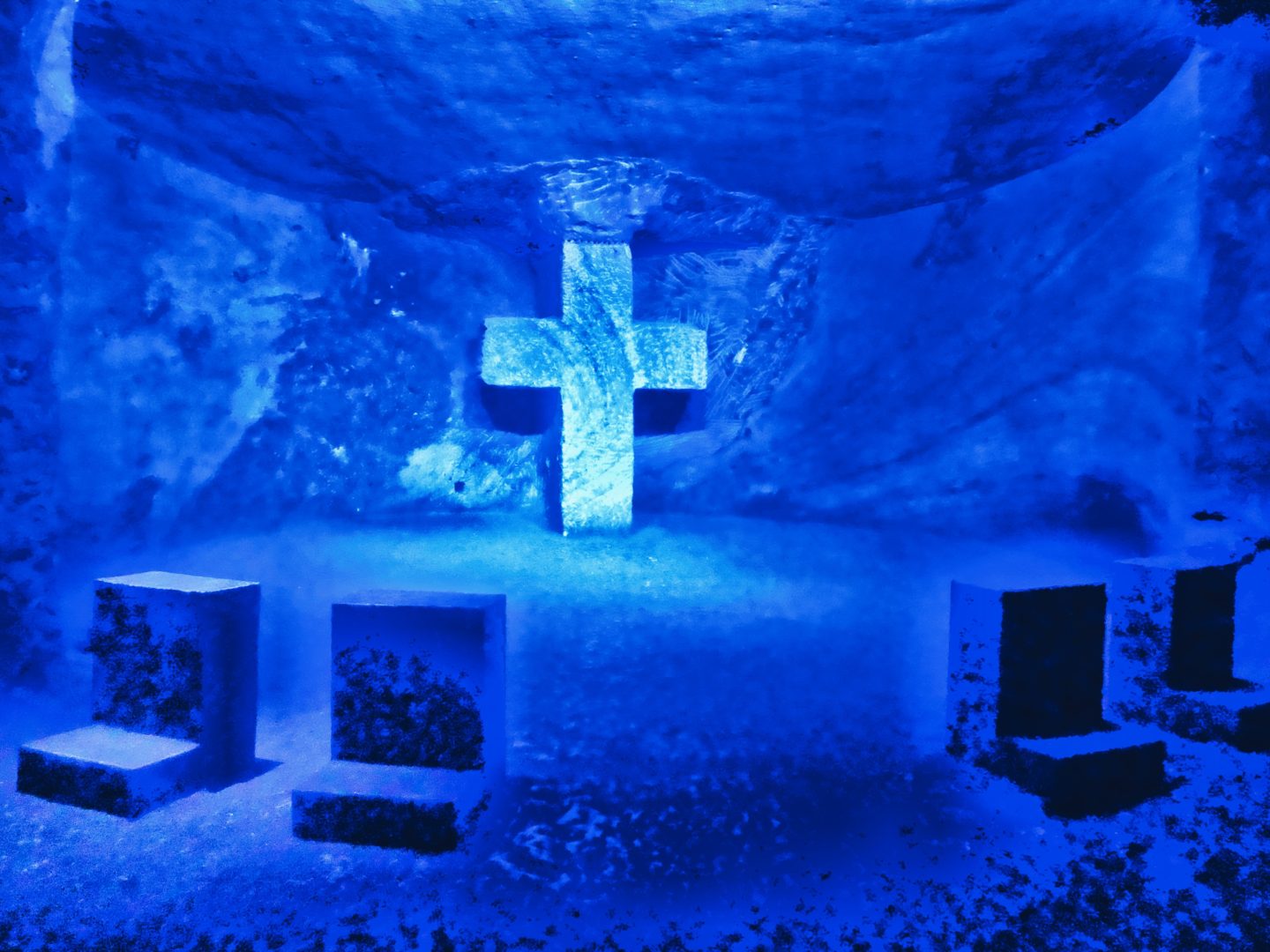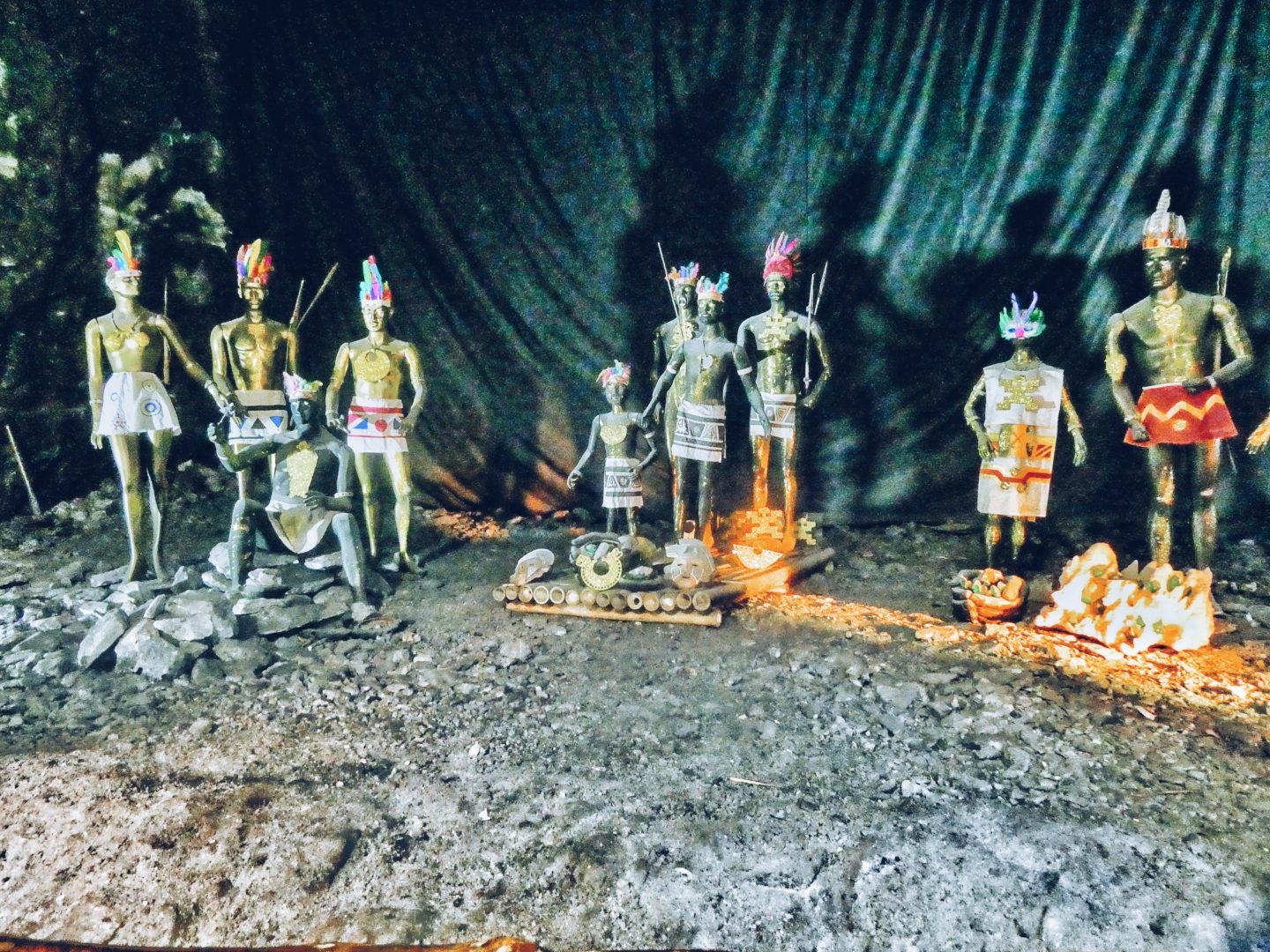 There are guided tours offered in English & Spanish. Highly recommend doing the guided tour to gain an understanding of the history and learn interesting facts about the Salt Cathedral.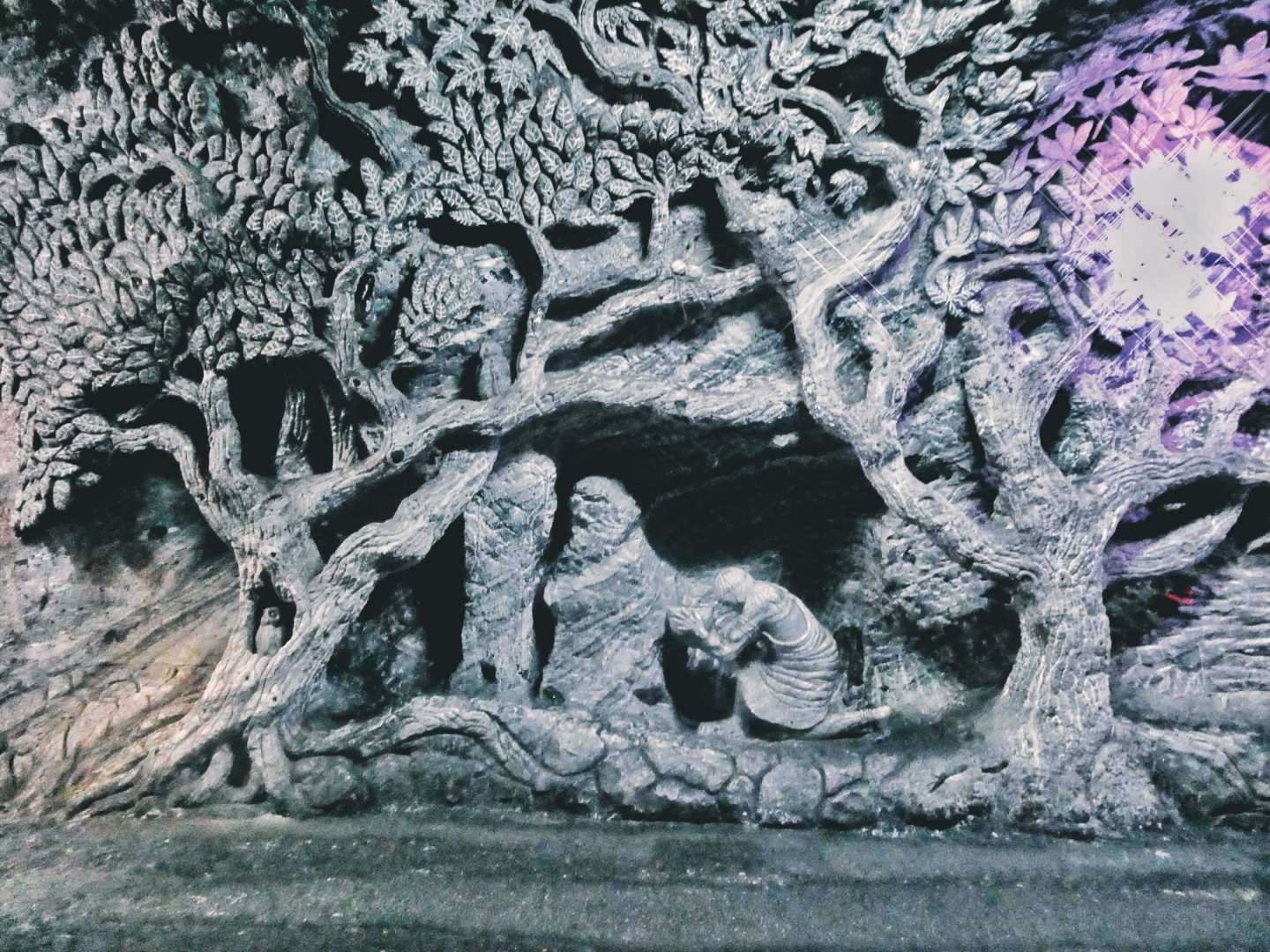 Sway to Latin Music in Zona Rosa
The music played here is exactly the kind of music we love. It wasn't hard picking a place to go in  Zona Rosa for dancing. The one thing we did have trouble with was getting inside as most places require your passport as identification and almost every place had a cover charge. Many places in Bogota don't take credit cards and it was hard to find ATM machines so take plenty of cash. Out of the places we went to, we recommend checking out 360 Rooftop. This place had a friendly crowd and beautiful views.
Places to Eat
Taj Mahal
So we have gotten into the habit of going to at least one Indian restaurant in every new country we visit. This place is simply delicious and does not disappoint. They also serve wine and cocktails. If you love Indian food like we do, you gotta go!
La Puerta Falsa
Tired of walking the streets? Take a quick break for an appetizing snack here. This is a quaint little cafe with interesting seating style and decor. They serve small plates, hot beverages and a wide variety of bakery items. If you want to try something new, try their Agua de Panela Completa; This dish is known to be a delicacy in Bogota.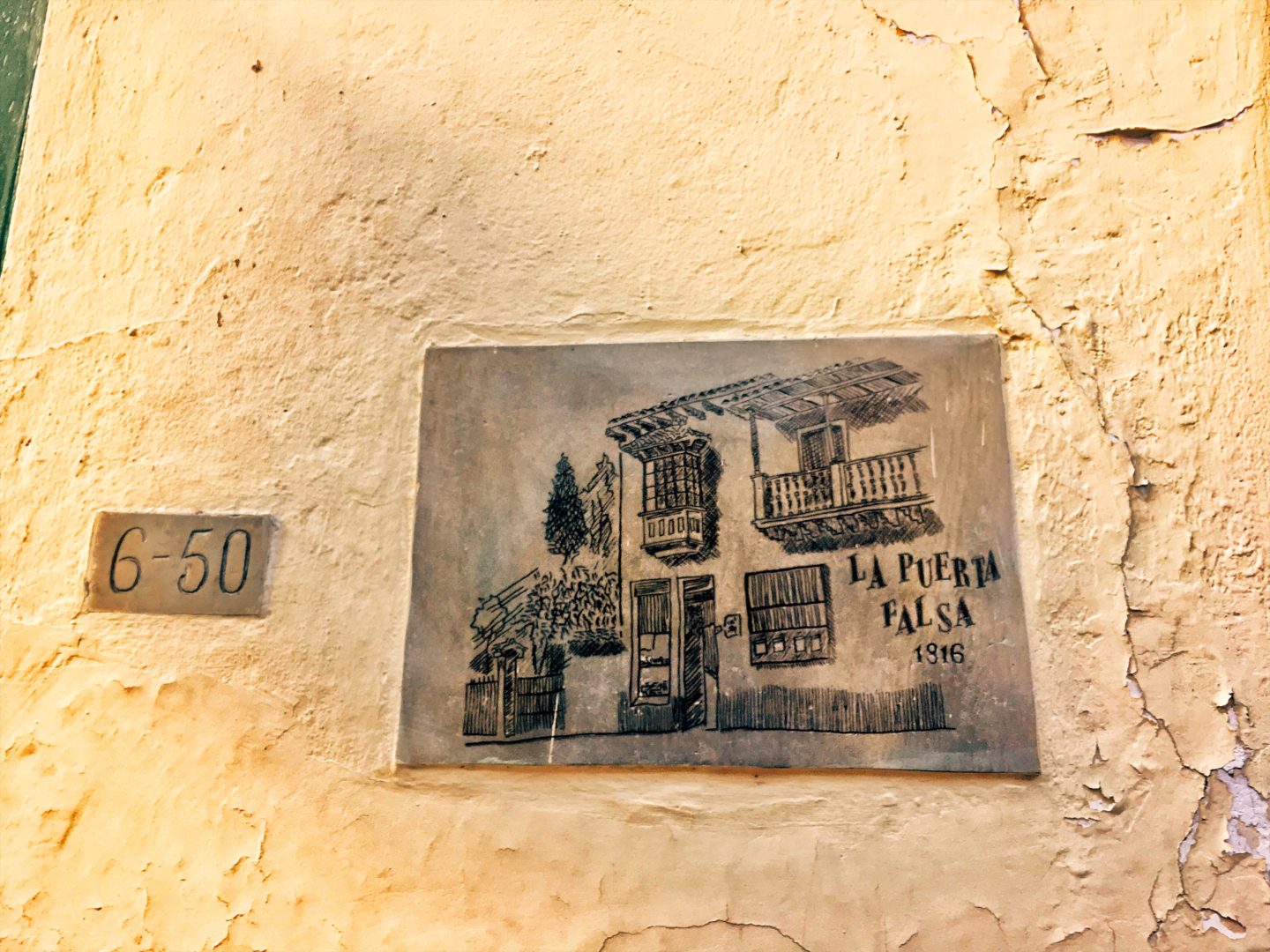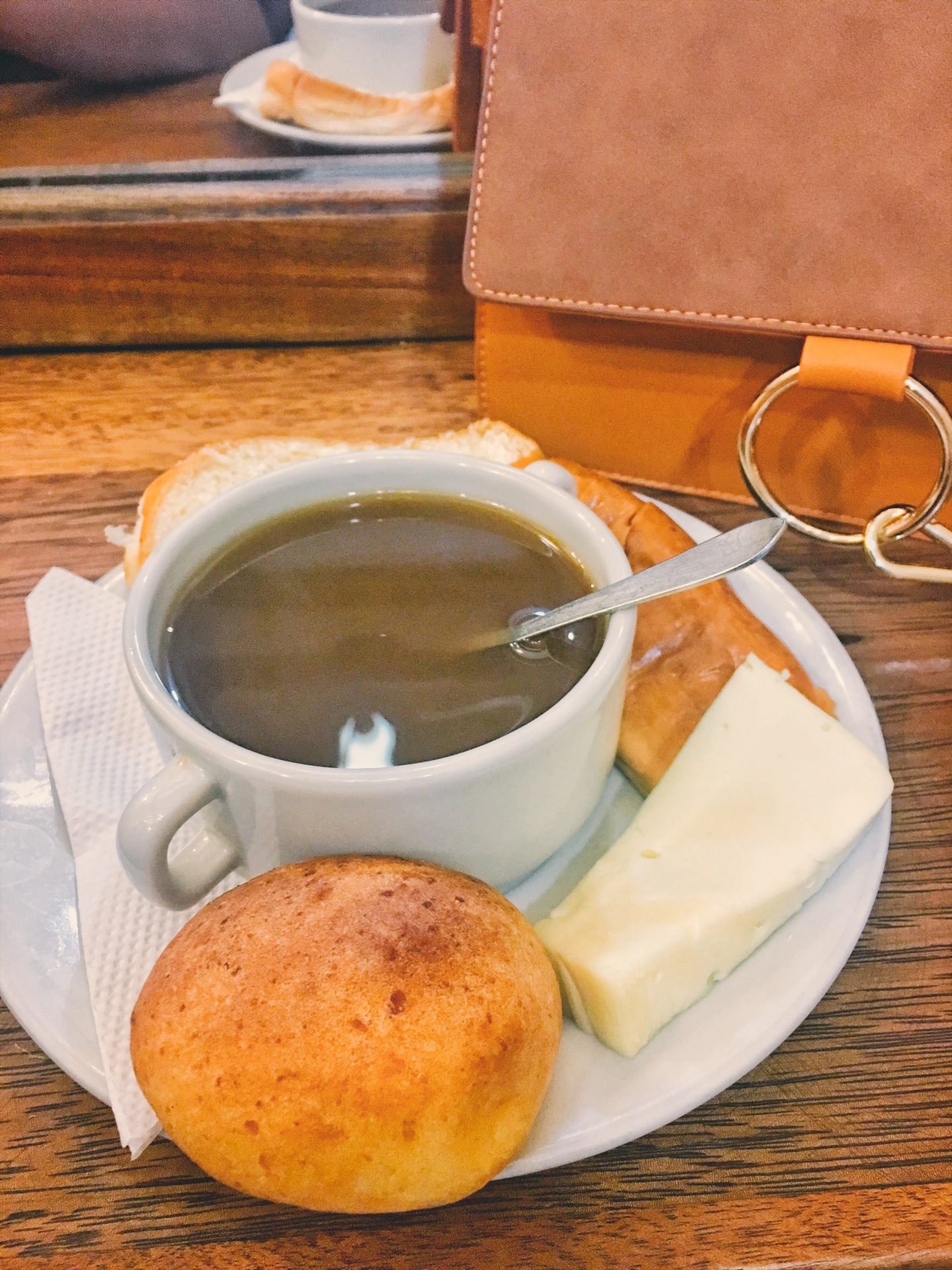 Coffee
You will find no shortage of coffee houses in Bogota! If you are a coffee drinker, do try a cup of Colombian coffee. It was a little strong but that is how they like their coffee there. 
La Taqueria 
Go here for dinner if you want tacos and margaritas.
Keep in Mind
Visa
Visa is not needed to travel to Bogota from the United States if your stay is less than 90 days. However, a valid and active passport is required to enter and leave the country. Don't forget your passport must be valid for 6 months after entry.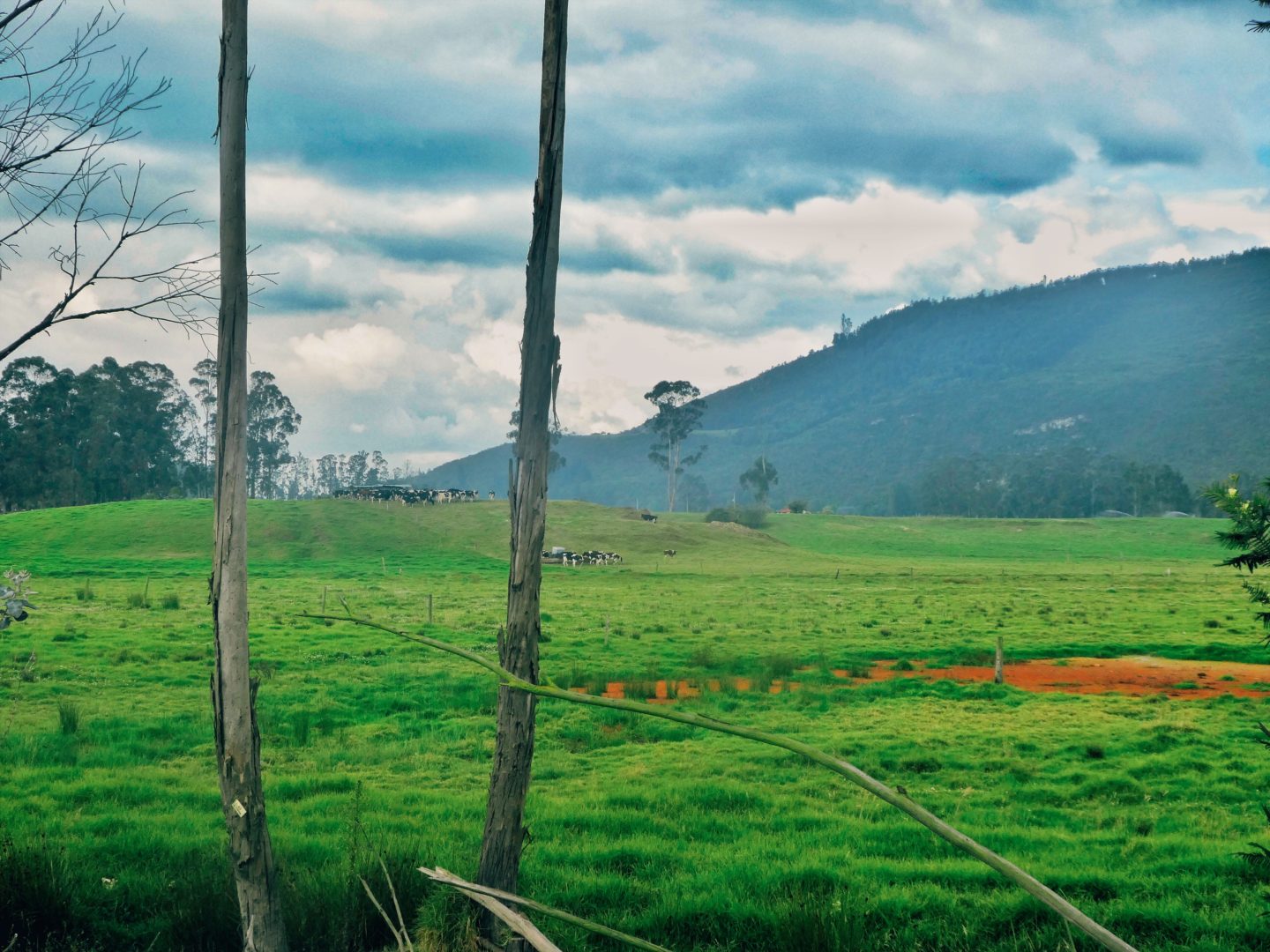 Money
The national currency of Colombia is Colombian Pesos. We recommend carrying ample amount of pesos as many places/taxis display hesitation towards credit cards. Also, take precaution in using debit cards. We would recommend to NOT use debit cards as they are privy to theft and that applies to any international travel. Just make it a point to take cash with you.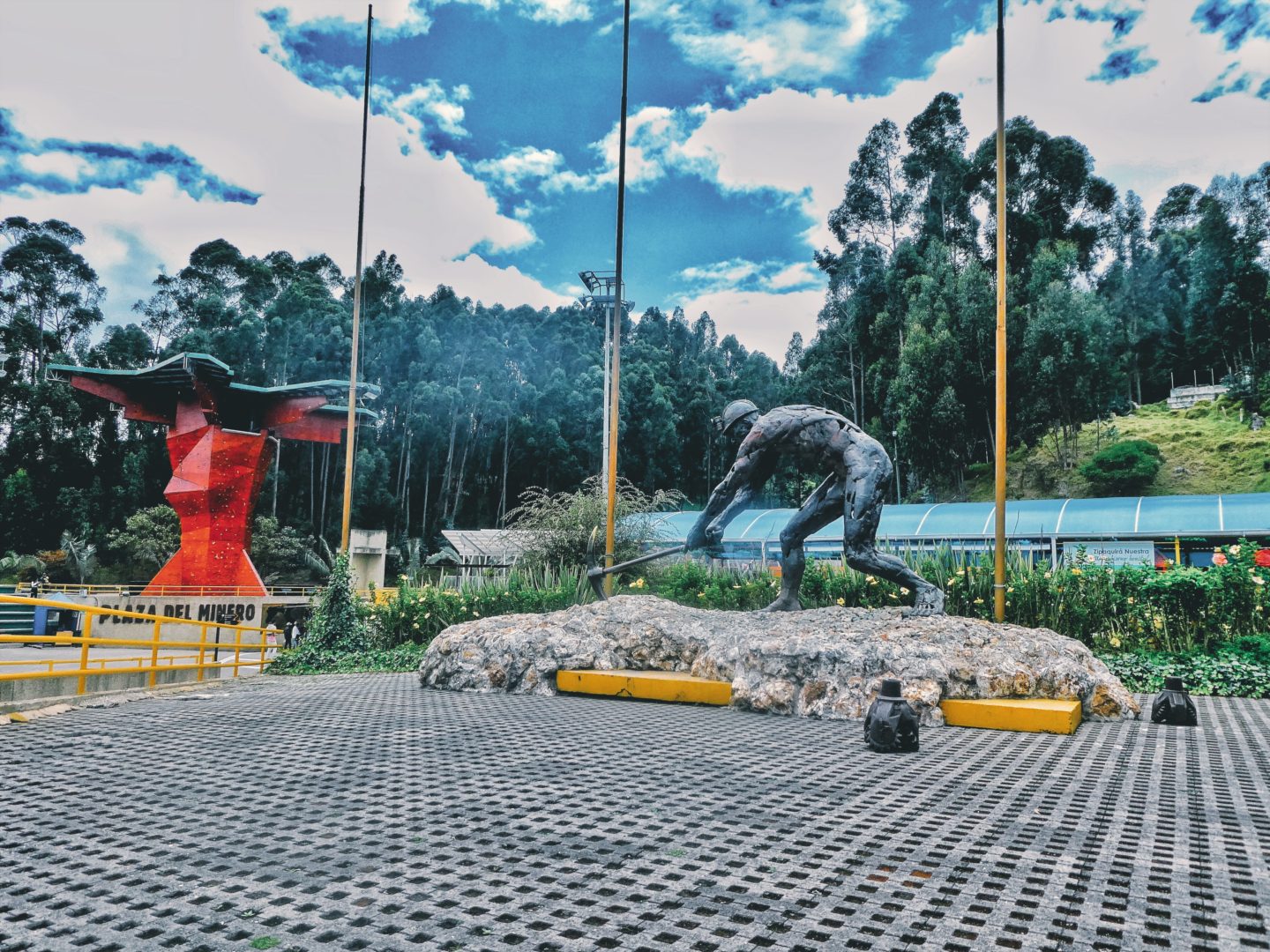 Transportation
Taxies are easy to come by but be prepared to sit in traffic as this is a metropolitan city. If you will be out late at night, we recommend having your place of stay call you a taxi to your destination and vice versa.  We got into the habit of carrying our hotel card with us so that we could easily show the taxi driver the address rather than trying to memorize it.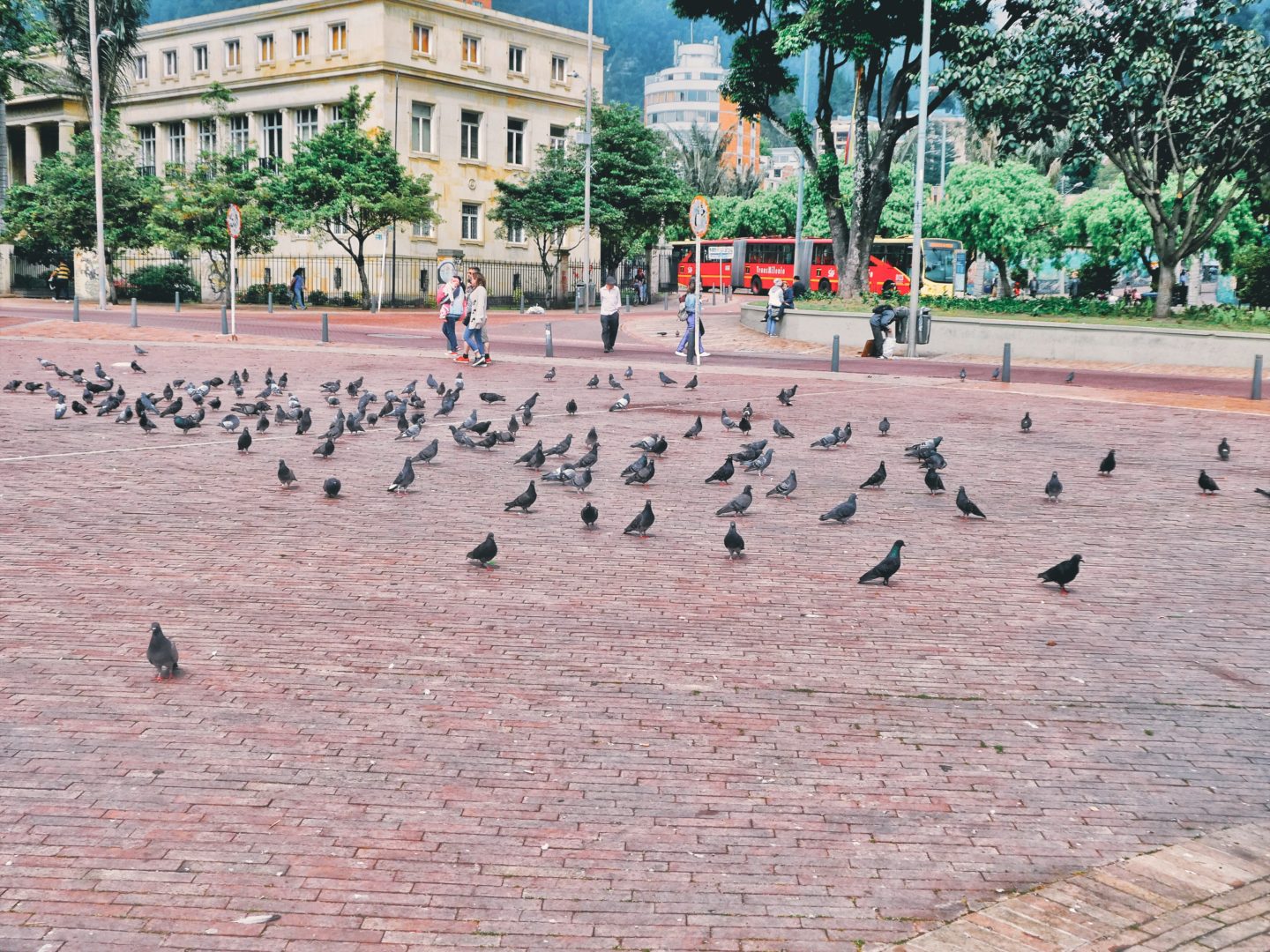 Weather
The weather here reminded us of Fall weather in the states. Depending on the time of the day and where you are, it can be sunny, cloudy, rainy or chilly. We recommend carrying a light jacket with you if you plan on being out all day as the weather does tend to change.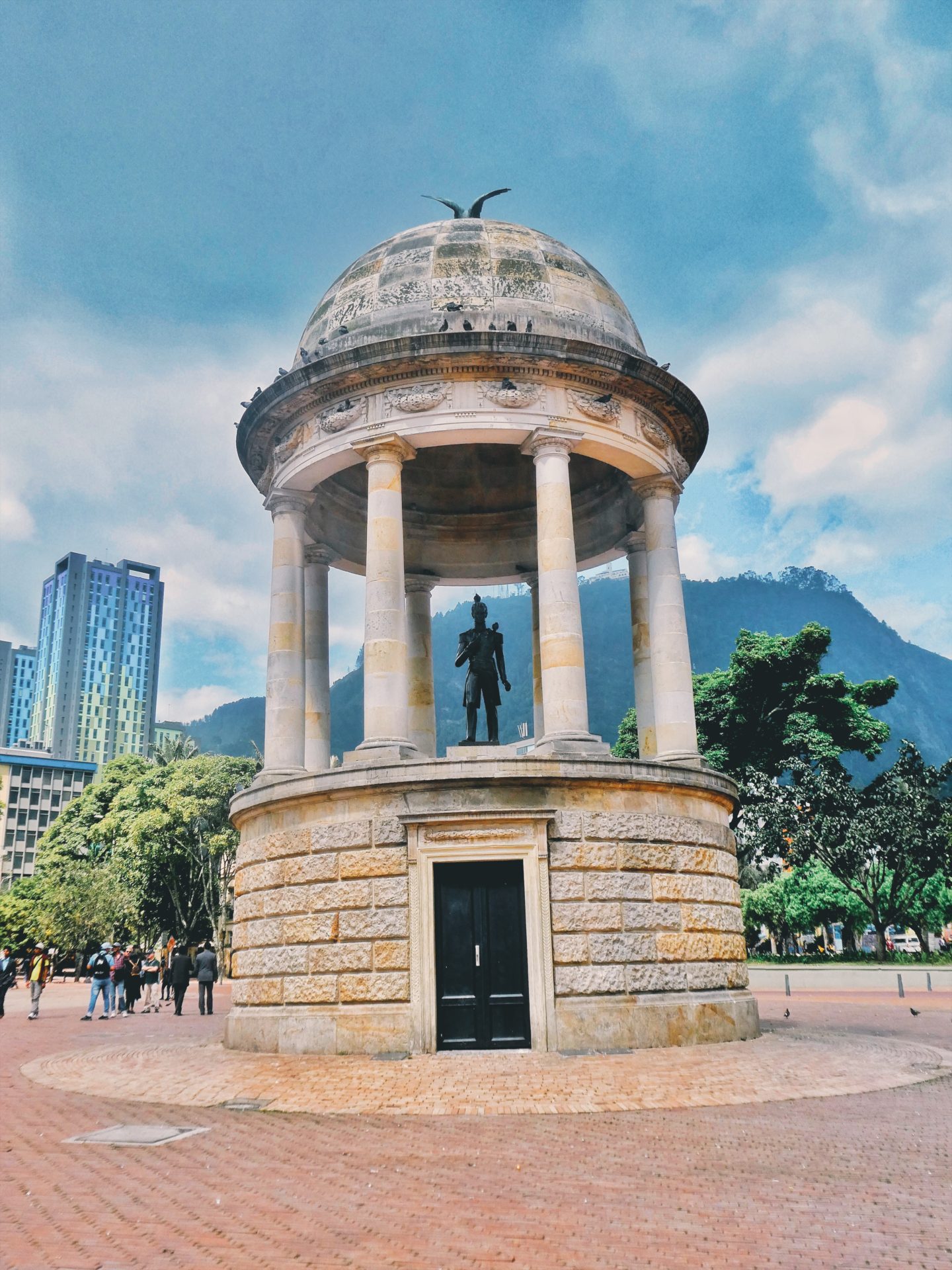 Safety
When it comes to safety, it is going to be our usual spiel. Just like every country, keep your belongings close and watch out for each other especially when walking the streets at night. Stick to Taxis especially at night. Long story short have a blast but be responsible and you will be fine!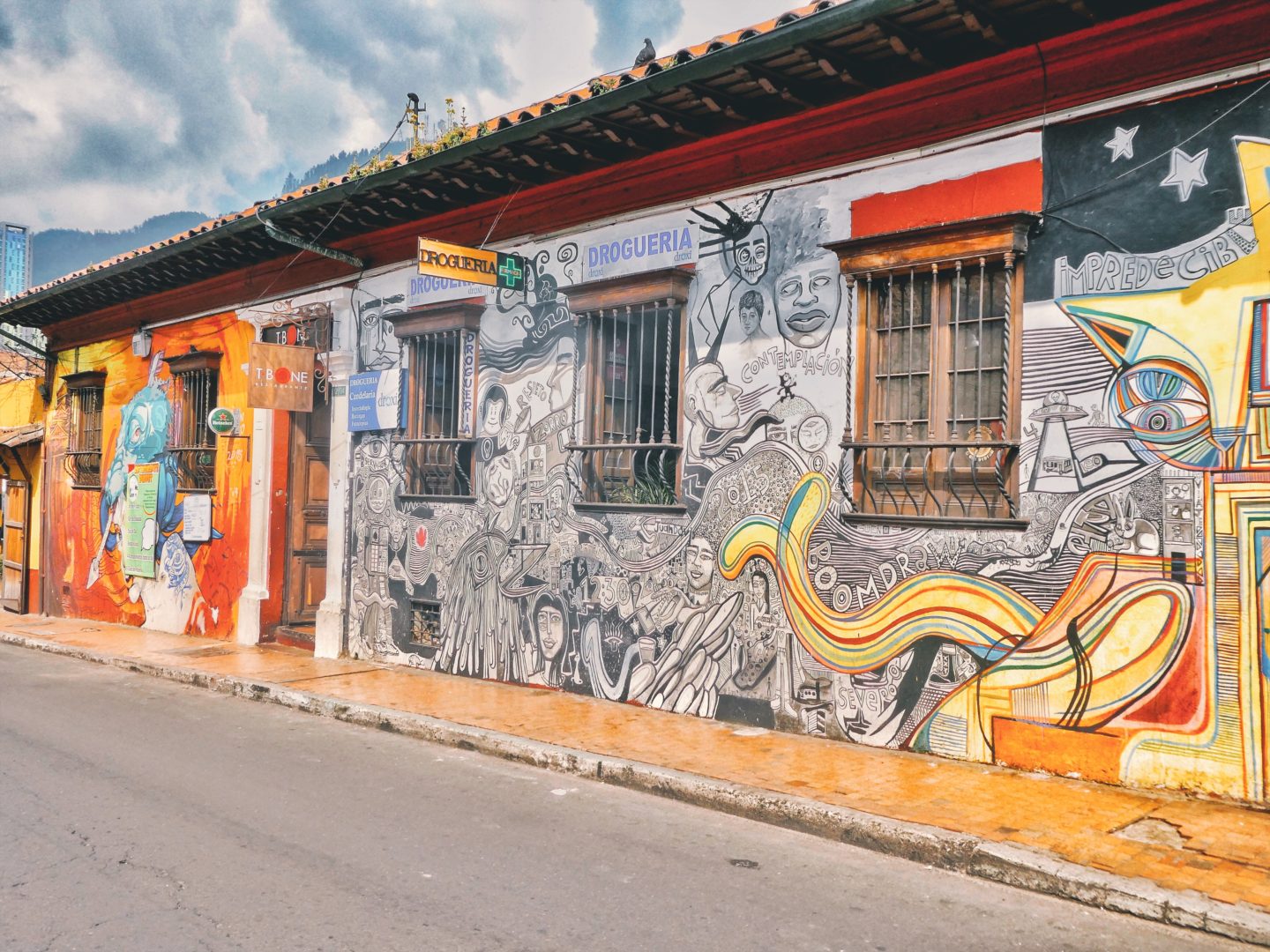 s/o to Jenie (Henie) for co-writing this post. 
Until next time…
-Dhara & Jenie (aka Henie & Dora)