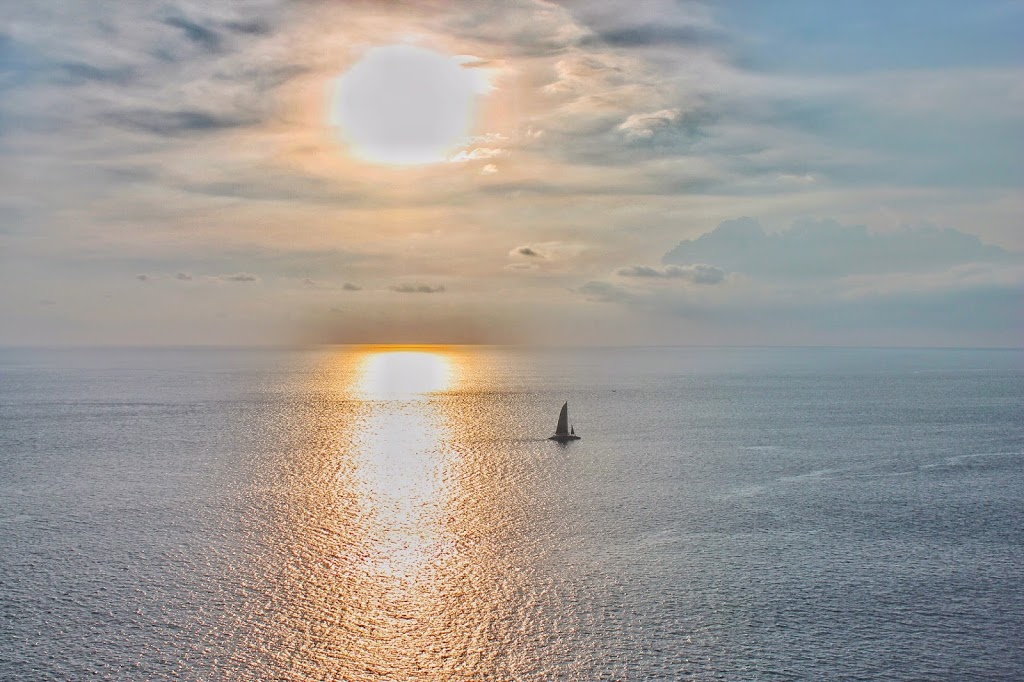 Phuket Province | Travel Guide
Overview
Quite a diverse " Island" in Thailand. Although it may not feel like you are on an island given it's size, it is surrounded by water. Based on where you stay, you can have an entirely different experience. However, no matter what kind of experience you want, Phuket can provide. If you want the city life, you can get that in Patong City. If you want to go island hopping, you can go to Phi Phi islands. If you want a laid back holiday, then Karon and Kata is the area for you.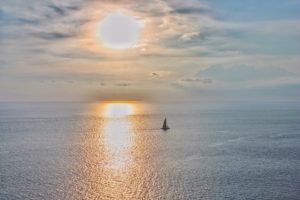 Sunset in Rawai, Phuket
Come here and you will meet Vegas's Daddy. The city is known as Sin City and five minutes of being here, you will get the idea why. You can find swanky massage parlors, go-go girls, nightlife that doesn't seem to end with the sun coming up, bars, restaurants and the busiest beach. If you like the lifestyle that Vegas gives you, you will like this place. On a personal note, this was not something that was appealing to us. Patong beach is located very close to the city and is walkable.The beach is bustling with tourists and street vendors at any time of the day. It was definitely an overwhelming type of experience navigating through the busy streets and the crowd.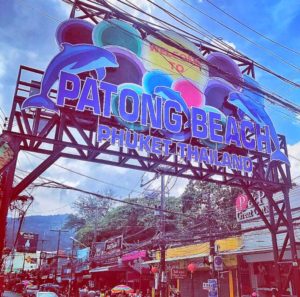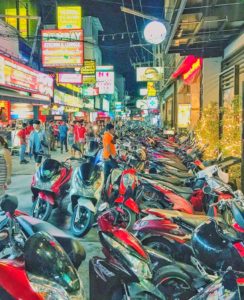 We preferred Karon & Kata Beach over Patong Beach as it was less crowded. We were able to enjoy the beach while sitting under a Palm tree and drinking fresh coconut water.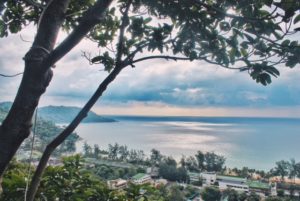 Overlooking Karon Beach
The beach also had parasailing and safe swimming areas. It was definitely a more laid back part of the Phuket province.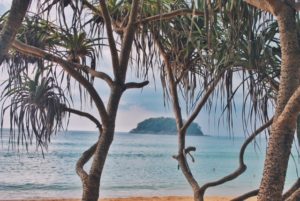 Kata Beach
Located in Rawai, this is the southernmost tip of Phuket and probably the most photographed. The view of Andaman Sea is breathtaking to say the least. Sunset lovers, put this on your list, you will not be disappointed. It gets crowded so be sure to arrive about 30 minutes before the actual sunset time.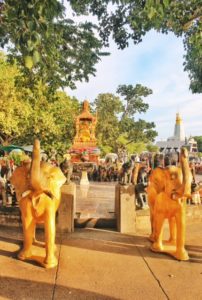 Elephant Temple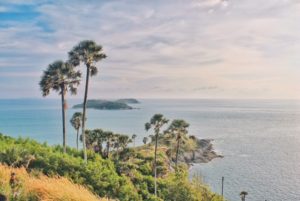 View from Phromthep into the Andaman Sea
Not enough words to describe just how beautiful and pristine these islands are. Being here, you can marvel at the beauty of our planet. To go here you have to book at least a day ahead. There are many tourist companies along the streets of Phuket; please shop around to find out the best prices before booking. Transportation and lunch is provided for most tours.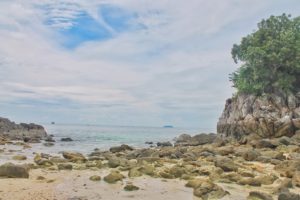 Khai Nai Island
It is an all day tour. You will be put on a speedboat that will take you out into the vast sea with many small islands. On our tour, we were also taken to Monkey Bay and Khai Nai island along with Ko Phi Phi Don and Phi Phi Ley islands. The whole experience was surreal and if you love traveling like we do; please add this island to your must visit places.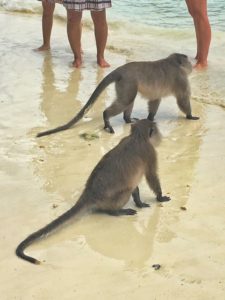 Monkey Bay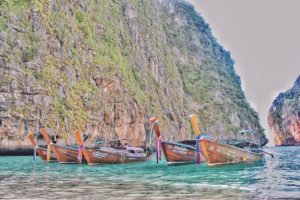 Maya Bay – Phi Phi Island
Muay Thai fighting is the combat sport of Thailand. As opposed to regular boxing, Muay Thai boxing includes the use of shins, fists, knees, elbows and clinching. The Bangla Boxing Stadium is a main attraction in Patong City and crowded with both tourist and locals. We were able to book our tickets online hours prior to the boxing match. It was exciting as it was our first live boxing match ever.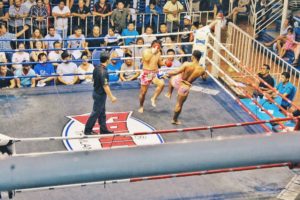 The first match took us by surprise as we witnessed children fighting each other and the crowd cheering them on; it was heartbreaking to watch and not something we were prepared for. When the match ended the winner got rewarded with money while the other child left limping off the stage. The rest of the matches we saw were fought by adults and was a different experience altogether. It helped us to appreciate Muay Thai as an art and cheer the fighters on.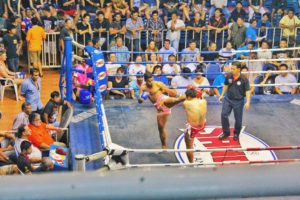 As naive and gullible as we both are, we didn't know that we were at one of the most prominent red light districts in the world. Bangla Road is known for their lady boys, massage parlors, bars, restaurants and most importantly their night life. The whole aura of Bangla road cannot be understood until you see it with your own eyes. We avoided this place at night as this wasn't our scene. But for city/party lovers it can be quite an experience.
We went to Kok Chang Safari after reading that it was one of the two Thai Government Certified Elephant camps in Phuket, where the Elephants were well taken care of; However they did have elephant trekking. We got the chance to feed the sweetest elephants there and it was truly gratifying. It does not cost anything to feed the elephants other than paying for the bananas.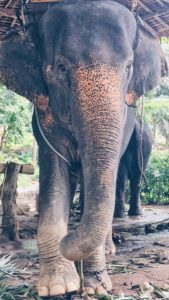 This is Sethi
After researching what an Elephant has to endure prior to having people sit on them was very upsetting. Read
here
. Please say NO to trekking; It is a form of animal cruelty. Elephant sanctuaries are more appropriate to visit as the elephants there are nursed back to health, they are well cared for and most importantly, they don't promote Elephant trekking.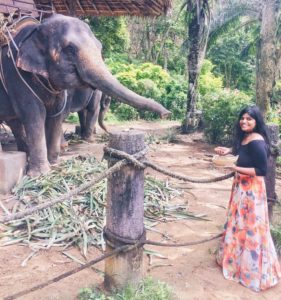 Aren't they adorable?!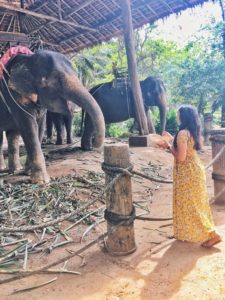 Sethi loves Bananas
"After Beach" is a restaurant nestled between Kata Beach and Kok Chang Safari on a cliff in Karon. Here, you can sit outside overlooking Karon Beach and enjoy some delicious food and the MOST amazing hot sauce concoction you have ever tasted!
Nom Nom with a view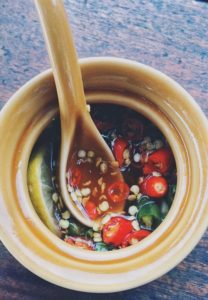 Hot Sauce
Keep in Mind
Visa is not needed to enter the country if you hold an American Passport and are staying for less than 30 days. You will be given an immigration ticket upon entry, that is usually stapled to your passport page.
DO NOT
lose this, it's needed to leave the country.
We were able to convert US dollars into Bahts prior to leaving for our trip. We saved our cash for souvenirs and smaller scale restaurants and used our credit card for booking tours. Some restaurants also accepted credit cards.
Patong City is walkable but to go outside of the city to other areas, bargain with tuk tuk drivers or taxi drivers.
As Phuket is very crowded, it is important to stay close to the person/people that you travel with and to keep your belongings close. It is not advised to be out late at night especially if you are traveling alone.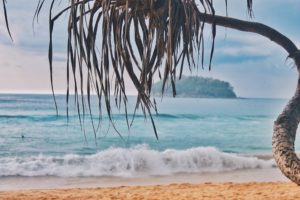 This post was co-authored by Jenie Babu
Hopefully this proivded you with some ideas and/or travel tips to Phuket!
Until Next time…