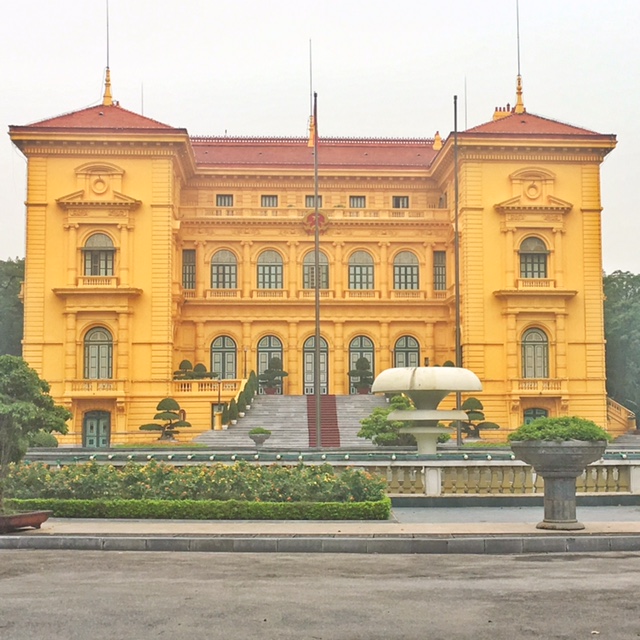 Hanoi |

Travel Guide
Overview
Hanoi is known as the cultural capital of Vietnam. A mix of modern with ancient treasures hidden through the city, where you can see the heart and soul of the bustling Vietnamese life on foot. The city is very friendly in terms of walking and accessibility.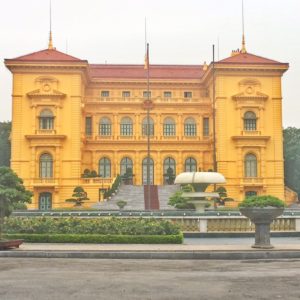 The Royal Palace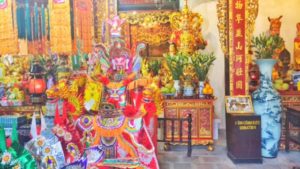 Inside a Pagoda
The Ho Chi Minh Mausoleum is a memorial located in the center of Ba Dinh Square and is named after a Communist Vietnamese Leader Ho Chi Minh. The embalmed body of Ho Chi Minh is preserved in the central hall of the mausoleum. It is protected by the military honor guards dressed in white and surrounded by gardens with various species of plants. This place is a must visit if you are a history fanatic. Tickets are NOT required to visit.
Mausoleum
A beautiful historic Buddhist temple that enables you to appreciate the ancient Vietnamese architecture in its entirety. The temple is built of wood on a single stone pillar and is designed to resemble a lotus blossom, which is the Buddhist symbol of purity. Tickets are NOT required to visit.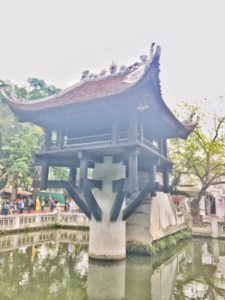 The oldest Buddhist temple in Hanoi, this is definitely worth a visit to explore the 1500+ years of history! A stupa of 11 floors, which can be seen from quite far away and a Bodhi tree gifted from the Indian Prime Minister in 1959 are few examples of the cultural gems present in this sanctuary. Hours of visitation vary, we found out the place opens to visitors around 1:30 pm. Tickets are NOT required to visit.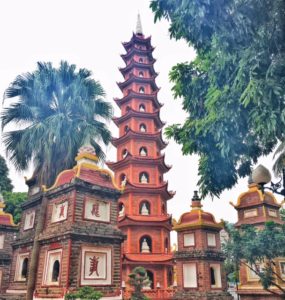 This lake is also known as the restored sword lake and is in the historical center of Hanoi. Hoan Kiem is beautiful by day and breathtaking by night. We were fortunate to visit the lake during the early evening hours into the night. The streets were bustling with unique street vendors selling artifacts, unique souvenirs, and live street performances could be observed. At night, the lake became vibrant with the artistic usage of lights on the bridge across which made way to a gorgeous temple. The lake also was surrounded by many restaurants, local gathering spots, and children having a blast.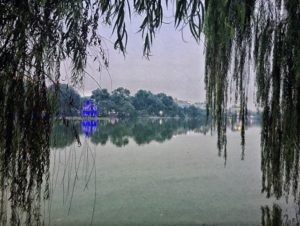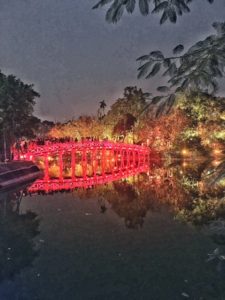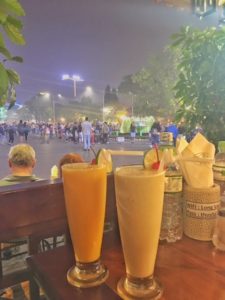 People watching by the Lake
Quite the thought-provoking & chilling experience. The prison was used by the French colonists to house political prisoners during the Vietnamese resistant movement. The prison was also a central point for American POW during the Vietnam War. A walk through the prison transports you back to the reality that the prisoners experienced.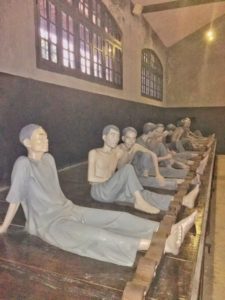 A small fee will grant you access to walk the facilities. Tickets can be purchased right outside the entrance. For hours, location and pricing, click
here.
We were able to purchase tickets for the water puppet show just a few hours before our show time. It was nothing like we have ever seen before and was fun to watch. Although the commentary was mostly in Vietnamese, we were able to get most of the humor depicted by the puppets. The show enriches you with the Vietnamese lifestyle, traditions, and music. A must see when in Hanoi.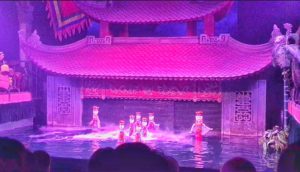 We booked our tour to Ha Long Bay a day ahead at our hotel. It was approximately $40 which included lunch (they have options for vegetarians as well) and transportation. We were picked up from our Hotel in Hanoi and taken to the port which is about 2 hours away. After an hour boat ride from the port; Halong Bay was in sight. Having seen this natural wonder only in pictures, we were mesmerized when we saw it in person.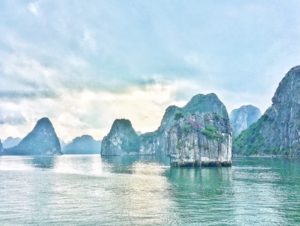 Ha Long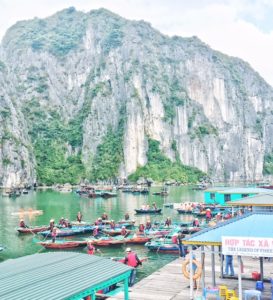 Floating Village
Pictures don't do justice when it comes to capturing the beauty of this limestone coast. The boat stopped by a "floating village" and we were able to explore the bay up close and personal on bamboo boats operated by the local fishermen. It felt surreal rowing around the limestones on bamboo boats. During our tour, we also stopped by to see Dau Go Cave also known as the Cave of Wonders. The cave entrance looks like a jellyfish and has a 90 step staircase. Inside you will find a massive system of stalagmites and stalactites that resemble stony waterfalls and is quite the sight.
Ha Long Bay should be on your mandatory to-visit list when in Vietnam and will leave you enchanted.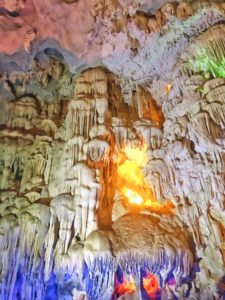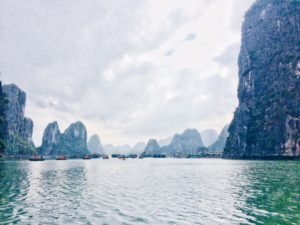 It was an experience trying to locate this place. We ended up in the hotel next door and it took us a few elevator rides up and down to figure out the rooftop bar was next door, haha. The bar does have really good drinks and the music is good. We went at night time but for better views of the city, we imagine evening time before it gets dark would be a better option!
A visa is needed to enter the country if you hold an American Passport. We had read before leaving that a visa can be obtained upon landing in Vietnam. However, we did not want to take any risks if something happened and we were unable to get it upon landing.
You can apply for a Visa by following the steps listed
here
. Be sure to email
vnconsular@vietnamembassy.us
to get the current visa fee rate before mailing the money order. We obtained our visas via the mail but you can go to the embassy as well.
If you do not hold an American Passport and want to inquire about visa requirements, click here.
Bargain & fix the rate before you get in!! Shy away from the usage of metered taxi as we found out that the meters are rigged and you will end up paying two-three times more than what you would pay.
Get a map of the city and have your place of stay help you identify where you are located. We found walking to be the best way to get a feel for the city and experience Hanoian lifestyle.
Convert before you leave if possible. If not, the airport does have currency exchange booths.
Places like the pagoda may kick you out if your shoulders and/or legs are exposed. It would be beneficial to carry a scarf with you to wrap around your shoulders or legs if need be.
Follow your regular safety rules just like any other place. Keep your belongings close and pay attention to your surroundings. Use your judgment when trusting people with your camera or cell phone. Do not wander the streets alone at night and use common sense.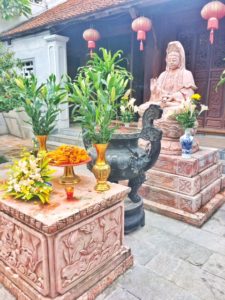 This post was co-authored by Jenie Babu.
Until next time…
-Dhara & Jenie